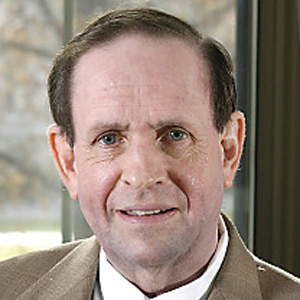 William DeLone
Professor
Department of Information Technology
Professor DeLone is a Kogod Eminent Professor of Information Technology. He has served as the Acting Dean, the Senior Associate Dean, Dean of Graduate Programs and Chair of the Department of Information Technology. He also served as Chair of American University's Strategic Planning Steering Committee. He held both faculty and administrative positions at the University of the Virgin Islands prior to joining the Kogod faculty in 1986. Professor DeLone is an internationally recognized scholar in the measurement of information systems effectiveness. His article, "Information Systems Success: The Quest for the Dependent Variable" was determined to be the most cited article appearing in the top information systems journals over a period of 15 year. His research has been published in various information systems journals including Information Systems Research, Management Information Systems Quarterly, the Journal of Management Information Systems, the Journal of the Association of Information Systems, the European Journal of Information Systems, IEEE Transactions on Software Engineering, the Journal of Information Technology, the Communications of the ACM, and MIS Quarterly Executive. He is the executive director of Kogod's Cybersecurity Governance Center. The Center's mission is to develop new knowledge about managing corporate risks associated with cyber security by combining the intellectual capital of the American University with that of partner corporations.

Degrees

B.S., Villanova University; M.S., Carnegie-Mellon University; Ph.D., University of California, Los Angeles (Computers and Information Systems)
Loading ...

OFFICE

KSB - Information Technology
Kogod - 37
Mon 2-5 pm & Thurs 11:30-2:30 pm
FOR THE MEDIA

To request an interview for a
news story, call AU Communications
at 202-885-5950 or submit a request.
AU Expert
Area of Expertise: Measurement of the performance and value of information systems in organizations, information system success factors, e-government (the impact of information technology on government services), e-development (the impact of information technology and education investments on the economic growth of small countries), global information systems development projects, computer use in small business, business school information systems curricula, general business education topics, strategic planning in higher education, faculty development

Additional Information: William DeLone cofounded the Management of Global Information Technology program at the Kogod School of Business and chaired the American University Strategic Planning Steering Committee. He specializes in management information systems, strategic management of information technology, e-business, and enterprise resource planning systems. Other areas of research include the assessment of information system effectiveness and value, the implementation and use of information technology in small and medium-sized businesses, the economic impacts of information technology, education investments in developing countries, and the global management of information technology. DeLone has published in various academic journals, including Information Systems Research, Management Information Systems Quarterly,and Communications of the ACM and the International Journal of Electronic Commerce, Journal of Management Information Systems, European Journal of Information Systems,and Journal of Global Information Management.

Media Relations
To request an interview please call AU Media Relations at 202-885-5950 or submit an interview request form.