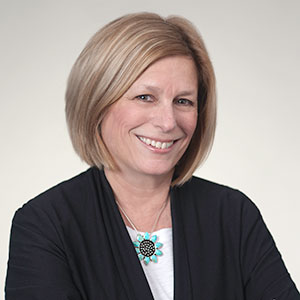 Amy Eisman
Director, Media Entrepreneurship & Interactive Journalism
School of Communication
Amy Eisman is director of the MA in Media Entrepreneurship, launched in 2012, facilitator for JoLT (journalism and game design) and former director of the MA in Interactive Journalism. In 2015, she was named among the 100 Tech Titans in digital Washington by Washingtonian Magazine. Previously she was Director of Writing Programs. Eisman was with Gannett for 17 years, first at USA TODAY and later as Executive Editor of USA WEEKEND. Eisman was also a managing editor at AOL, a Fulbright lecturer in Moscow and has trained newsrooms on web content and writing. She co-authored online training modules for Gannett about breaking news online, interactivity and database journalism and co-wrote a module for Knight Citizen News Network. She's held workshops at the washingtonpost.com, Freedom Forum, VOA and Radio Free Europe/Radio Liberty in Prague and Moscow. She co-chaired the 2010 Online News Association conference and in 2011 presented in Vladivostok about digital journalism. She chairs ONA's MJ Bear Fellowship committee, honoring digital journalists under 30, and judges the White House Correspondents' Association Awards.

Degrees

BA University of Pennsylvania; MA American University
Loading ...

OFFICE

SOC - School of Communication
McKinley - 240
Mondays 3-4 pm, Wednesdays 2-5 pm
---
Scholarly, Creative & Professional Activities
Professional Presentations
Visiting Faculty, Danish Newsroom Challenge, Poynter Institute, November 2015
Moderator, What Journalists Can Learn from Game Designers, ONA conference, Fall 2015
PR News Webinar, "Essential Skills of Effective PR Writing," June 2014
Moderator, "Branding Yourself (Or your Company) in a Digital World," AUSOC at 1776, June 2014
Roundtable participant, ICFJ: "Back in the Newsroom Fellowships," May 2014
Panelist, "Teaching Entrepreneurship & Pitch Contest," JournalismInteractive, College Park, Md., April 2014
Speaker, New Media Landscape, PR News' Media Relations conference, Dec. 2013
Panelist, "What is the Role of Student Media?" AU SOC, September 2012
Speaker, "Technology and the Classroom," faculty of School of Architecture and Planning, Catholic University of America, August 2012
Panelist, Social Learning Summit 2012, AU Social Media Club, March 2012
Presenter, Teach-A-Thon, "What's Next for Text," Journalism Interactive, University of Maryland, October 2011
Panelist, AEJMC regional Idea Summit on Technology in the Classroom, AU, June 2011
Speaker on World Press Freedom Day, Vladivostok, Russia, May 2011. Also visited various journalism programs and classes to talk about new media. Photos here.
Panelist, How Internet Aggregators are Affecting Journalism, AU Washington College of Law, March 2011
Participant in J-Lab's Reimagining Journalism, January 2011
Co-Chair, ONA10, the annual conference of the Online News Association, Washington, DC, October 2010
Panelist, Rebooting the Curriculum: Teaching Journalism in a Digital Tempest; AEJMC, Denver, August 2010
Panelist, Writing Across Platforms; Penn Communications Day, UPenn, May 21, 2010
Speaker on New Media Landscape at Osher Lifelong Learning Institute; George Mason University, Feb. 4, 2010
Speaker at JEA/NSPA Fall National High; School Journalism Convention, Washington, D.C., on Media Landscape, Nov. 13, 2009
Online News Association, hosted panels on Web writing, and on companies hiring journalists, San Francisco, October, 2009
Quoted in AU; Center for Social Media white paper about best practices in digital journalism
Panelist on Social Media panel, Lockheed Martin, September 2009
Speaker, New Trends in Public Diplomacy: The Future of Media, Foreign Services Institute, June 2009
Speaker on Web 2.0, Unlocking Online Resources for the Washington, D.C., chapter of NBC Universal's African American Forum, October 2008
Panel moderator at the Online News Association annual conference, Washington, D.C. The first, at J-Lab's preconference workshop, Building Innovation in the Curriculum. The second was "So you want to teach?" for potential first-time faculty, September 2008
Panelist at the news market's Digital Marketing and Online Video for Public Relations and Public Affairs, National Press Club, June 2008
Panelist at Association of Health Care Journalists, Multimedia Tools for Telling Stories, Arlington, Va., March 2008
Moderated panel of USA TODAY editors on newspaper's 25th anniversary, September, 2007
Freedom Forum Online Multimedia Reporting Seminar, Nashville, workshop on Web writing and editing, Aug. 12-17- 2007
Freedom Forum, conference call to 100-plus journalists on how to write for the Web, April 26, 2007
National Press Club, Washington, DC, participated in panel, New Trends in Electronic Media, April 3, 2007
Media Appearances
AU Partners With 1776 to Help Foster the Spirit of Entrepreneurship on Campus

BBC-Persia covers VotingYoung class project
Washington Times on teaching Twitter on college campuses, September 2009
PBS MediaShift, "Why is American University becoming center for new journalists" June, 2009
American Journalism Review on navigating industry change
Interviewed on XM's POTUS '08 channel at April 11, '08 opening of Newseum
USA TODAY's 25th Anniversary
The Web and Writing for Mass Communication
Quoted in The National in UAE about 9-11 class project
Professional Services
Conducted Web-writing workshops
BNA, Washington, D.C., July/August 2011
Bread for the World, Washington, D.C., March, June 2011
Radio Free Europe/Radio Liberty, Prague June 2010
Thomas B. Fordham Institute, January, 2010
Maynard Institute, Multimedia Editing Program, June, 2009
Washington Post sports editors, February 2009
Kaiser Family Foundation's 2008 Kaiser Media Fellows, Washington, Sept. 2008
WTOPnews.com, Web writing, March 2008
World Resources Institute, Web writing, February 2008
Associated Collegiate Press annual convention, 'Think Web first,' Oct. 26, 2007
Knight International Journalism Fellows, October, 2007
Freedom Forum, Online Multimedia Seminar, Nashville, Aug., 2007
Radio Free Europe/Radio Liberty, Moscow Sept. 2006
Radio Free Europe/Radio Liberty, Prague July 2006, March 2007
Voice of America, November 2006, July 2008, March 2009
Washingtonpost.com, Washington, DC Spring 2006, Spring 2007
SPJ Virginia Pro Chapter, Richmond Times Dispatch, Media General, May 2005
Created Online Training Modules
Co-authored in 2006-2007 with Prof. Larry Gillick online training modules for 5,500 employees of Gannett Co. on breaking news online, interactivity and datbase journalism
Co-authored, in 2007 with Prof. Wendell Cochran training for citizen journalists at the Knight Citizen News Network.
Served as Judge
Application Evaluator, Fulbright Program in Russia, 2013
Chair, MJ Bear Fellowship Committee, 2011, 2012, 2013, 2014, 2015
Application reviewer, The Fulbright Program in Russia, 2013
Judge for New American Media Washington, D.C. chapter, February 2011
Judge for 2010 Knight News Challenge
Judge for Knight-Batten Awards in Innovation in Journalism, July 2009
Robert F. Kennedy Annual RFK Journalism Awards, 2006, 2007, 2008
Best of Gannett, 2005
CHINFO judging for U.S. Navy, 2005
AU Expert
Area of Expertise: New media landscape; convergent and social media in terms of journalism; writing and editing for online publications; journalism; newspapers; digital media; writing for audience; online learning (distance education)

Additional Information: Amy Eisman is one of the founding editors of USA Today, former executive editor of USA Weekend magazine, and  former managing editor of content at AOL.  A veteran trainer and educator, she was cochair of the online news association 2010 conference in Washington, D.C. She created an online course in the School of Communication called Media@ the Millennium, which explores the influences of technology, business, audience, and bias on journalism.  She trains journalists in Web writing and content, holding sessions for Radio Free Europe/Radio Liberty in Prague and Moscow, for Voice of America, washingtonpost.com, World Resources Institute, wtopnews.com, and for the Diversity Institute of the Freedom Forum in Nashville, Tenn.  A frequent panelist, she is the coauthor of multimedia online training modules for Gannett and for citizen journalists. She was a Fulbright lecturer at Moscow State University in summer 2004 and returned to Russia in 2011 as a guest speaker invited by the U.S. Consulate in Vladivostok. She often is called upon as a judge, including for Knight-Batten awards, White House Correspondents Association awards, and the Knight News Challenge.
 
Media Relations
To request an interview please call AU Media Relations at 202-885-5950 or submit an interview request form.