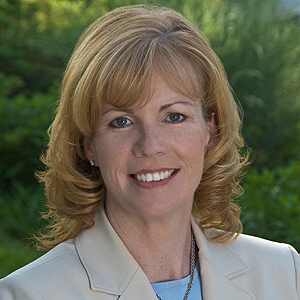 Teresa Flannery
Vice President of Communication
Vice President for Communication
Terry Flannery has worked in higher education marketing for two decades. She is American University's first executive director, university communications and marketing, and a member of the president's cabinet. Establishing a full marketing program, beginning with market research to inform the brand strategy, she has also worked with a campus-wide committee to completely redesign the University website.

Prior to her appointment at American, Flannery built a nationally recognized higher education marketing and communications program at the University of Maryland as assistant vice president. She also held positions in admissions and student affairs at Maryland, and was affiliate assistant professor in the College of Education.

With expertise in marketing, branding, marketing research and assessment, Flannery serves as the chair of the CASE Institute for Integrated Marketing and Branding, and is a frequent speaker and consultant for higher education organizations.


Degrees

PhD, College Student Personnel, University of Maryland; MEd, College Student Personnel, University of Maryland; BA, English University of Maryland

Favorite Spot on Campus:

The Quad


Book Currently Reading:

Team of Rivals, Doris Kearns Goodwin

AU Expert
Area of Expertise: Marketing, branding, marketing research, higher education assessment

Additional Information: Teresa (Terry) Flannery has worked in higher education marketing roles for two decades, including admissions and integrated marketing positions. In May 2008, she was appointed American University's first executive director of university communications and marketing. She serves as a member of the President's Cabinet. Flannery has established a full marketing and communications program, including market research to inform the brand strategy. She also worked with a campus-wide steering committee to completely redesign the university Web site, which was launched in March 2009. Flannery previously served at the University of Maryland, where she was appointed its first marketing director in 1997. She built a nationally recognized higher education marketing and communications operation and was ultimately promoted to assistant vice president for university marketing and communications in 2004. Flannery also worked in undergraduate admissions, specializing in market research and recruitment marketing, student activities, and resident life. With expertise in marketing, branding, marketing research, and higher education assessment, Flannery has been professionally involved with the Council for the Advancement and Support of Education (CASE), the National Association for College Admission Counseling, and the American Marketing Association (AMA). She consults regularly with colleges and universities interested in developing integrated marketing approaches for their organizations. Flannery has three degrees, all from the University of Maryland: a bachelor's degree in English and a master's and PhD in college student personnel administration. She held an affiliate assistant professor appointment in the University of Maryland's College of Education for 10 years, teaching doctoral courses and advising master's degree candidates.

Media Relations
To request an interview please call AU Media Relations at 202-885-5950 or submit an interview request form.