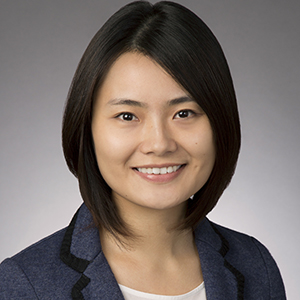 Chengcheng Liu
Public Administration
Chengcheng (Aviva) Liu is a PhD candidate in the Department of Public Administration and Policy at American University. Aviva has published two comparative studies focusing on US and Chinese governmental performance management, accountability, and transparency, in American peer-reviewed journals (including one SSCI). She has given several presentations at the annual conferences of the American Society for Public Administration. Furthermore, she has participated in and led several research projects on public sector reforms, with top-level social science research funding in China. She also co-founded Guangzhou Tongde Hospital and Out-patient Clinic in Guangzhou, China, which provided primary care to a large number of lower income populations and migrant workers.

Doctoral Dissertation:
"The Wage Policies for the Urban Health Workforce in China: An Empirical, Historical-Institutional Analysis"
The dissertation aims to build a fuller understanding of the little known factors that contribute to the institutional changes underpinning compensation policies and the consequences of those policies for the public sector health workforce in urban China. Firstly, it collects and analyzes major laws, regulations and government meeting records to examine how similarities and differences in political beliefs have shaped the various compensation policies over time. Secondly, it identifies wage factors and analyzes the characteristics of health providers, using revised Mincer wage models and national income survey data from 1988 to 2013. The dissertation provides systematic analysis and both quantitative and qualitative empirical evidence that sheds light on the missing links between provider compensation and service outcomes (performance).

Research Areas:
Public administration; Health policy; Chinese politics, policy, and administration; Global governance and international public management.