Questions?
Contact:
Megan K. Lintott, M.S.Ed.
Manager of Special Undergraduate Programs
mlintott@american.edu
(202) 885-6280
Three-Year Scholars Programs
The following three-year degree programs are available to incoming Freshman: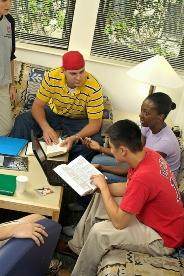 About the Programs
Three-year bachelor programs at American University are designed to be intensive academic cohort experiences for motivated and ambitious students. Each three-year program provides a rigorous academic curriculum augmented in the summers and during the regular semesters with cohort courses and with other curricular experiences linked directly to the program of study, enabling students to develop strengths in investigation and inquiry related to the disciplines. It is not necessary to have Advanced Placement or other credits in hand in order to complete the program in three years.
The three-year experience is distinguished from the four-year experience at AU by its pace of study and by seminars and enhanced mentorships with faculty. Consequently, students earn not just a degree, but a degree plus a level of commitment to the field that will prepare them for graduate study or placement in the workforce.
Each cohort is defined by a pivotal foundation course - an enhanced introductory course that includes a living-learning component where students live in a common residence and participate in extra curricular activities that enrich their classroom experiences. This arrangement provides an opportunity to take the discussion out of the classroom and into daily life. Unique programming and activities through the residence hall will further strengthen the connection to the three-year program's academic discipline. Overall, students will be provided the socialization experiences that allow them to have the typical "college experience" combined with the shorter time-to-degree.