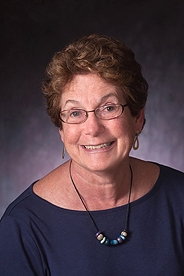 Photo by Jeff Watts
Meet Kathy McAdams, AU's Assessment Advisor
As the assessment advisor for American University faculty, Katherine C. McAdams gets to use all of her 30 years of experience as a professor, administrator and researcher.
"Because our assessment advisor is someone with extensive teaching experience, she understands the demands put on faculty as well as the importance of devising assessments that are simple and do-able," according to Karen Froslid-Jones, director of the AU Office of Institutional Research and Assessment (OIRA). "Most importantly, Dr. McAdams can help departments design assessments that will have a high impact on program effectiveness. As advisor, she offers vital resources to anyone on campus who wants to advance student learning," Froslid Jones said.
McAdams came to AU in 2012 after 25 years on the faculty at the University of Maryland, College Park, where she was associate dean for Undergraduate Studies (2005-2010) and associate dean for the Philip Merrill College of Journalism (2010-2012). She also served as executive director of the College Park Scholars program, a living-learning community for talented freshmen and sophomores. As associate professor of Journalism, she taught writing, editing, and research methods to both undergraduate and graduate students.
"I have been focused on student learning for a very long time," McAdams said. "Being here at American brings together some of my core interests: how students develop as critical thinkers and as learners, and how they interact with faculty and with curricula," she explained. "Assessment of student learning allows us to look inside these learning processes."
McAdams holds three degrees from the University of North Carolina at Chapel Hill: a bachelor's degree in English Education, a master's degree in Journalism, and a Ph.D. in Mass Communication Research. Her research deals with subtle forms of bias transmitted to audiences via traditional news formats. She is co-author of a best-selling text, "Reaching Audiences: A Guide to Media Writing," now in its sixth edition.
After teaching high school English for three years, McAdams worked as a journalist covering education and local government. She was a lecturer in the UNC School of Journalism from 1981-1987 while working as a free-lance journalist and working on her doctorate. McAdams also served as a copy editor in the early days of washingtonpost.com while she was on sabbatical for the year 1996-97.
Most recently, McAdams helped to establish a campus-wide program for the assessment of learning at Maryland by serving on the Provost's Commission on Learning Outcomes Assessment 2005-2010. She also served on a task force to help graduate programs with assessment from 2010-2012. In addition, she helped to establish the new general education program for all undergraduates at Maryland that was launched in the Fall 2012 semester.
"AU has benefitted from having an assessment advisor," Froslid Jones predicted. "Now, faculty have someone dedicated specifically to helping them develop and implement meaningful assessments," she said, noting that faculty always are welcome to visit McAdams' office in Leonard Hall, Room 113 near the Office of Institutional Research and Assessment.