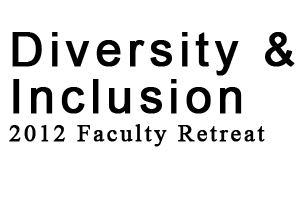 2012 Faculty Retreat
Faculty and staff can access materials and the video from the retreat at https://myau.american.edu/academics/FR/default.aspx
October 12-13, 2012
Cambridge, MD

Faculty at AU are the heart and soul of the academy and the driving force of the institution. With this responsibility, faculty engagement in planning and implementing academic priorities and strategic goals is critical. The 2012 Faculty Retreat is a day-and-a-half off-campus event that brings the university-wide faculty together for this purpose.
American University values diversity and is committed to ensuring a learning environment that is inclusive. Goal five of our Strategic Plan affirms this commitment: Reflect and Value Diversity.
In the last five years, AU has experienced changes in the racial/ ethnic, socioeconomic, and geographic origin of incoming students. The percentage of students hailing from the Southern and Western United States has increased 41% and 53% respectively. The number of first-generation-in-college students as well as the number of Pell eligible students in the incoming class has more than doubled. At the same time, there have been dramatic increases in the percentage of African-American (124%), Latino (169%), and international students (22%). This trend will continue as the demographic of the nation's college-going population changes.
Like many institutions across the nation, AU strives for greater diversity in its faculty and yet faces challenge in recruiting and retaining a diverse faculty. While student diversity at AU has increased, faculty diversity has been flat in terms of faculty from racial/ ethnic groups historically underrepresented in higher education. And, there have been only modest increases in international and women faculty.
These trends present both promises and challenges in addition to implications for our teaching; student learning; faculty and student recruitment and retention; student services; and co-curricular life. This retreat is intended to bring the faculty together to learn about, strategize on, and celebrate diversity and inclusion at AU.
Planning Committee
Co-Chair, Michael Ginzberg, Kogod School of Business

Co-Chair, Lyn Stallings, Vice Provost, Undergraduate Studies

Fanta Aw, Campus Life
Peter Chinloy, Kogod School of Business
Angie Chuang, School of Communication
Maria De Jesus, School of International Service
Dan Dreisbach, School of Public Affairs
Lia Epperson, Washington College of Law
Caren Goldberg, Kogod School of Business
Marilyn Goldhammer, College of Arts and Sciences
Monica Jackson, College of Arts and Sciences
Binny Miller, Washington College of Law
Karen O'Connor, School of Public Affairs
Kari Schmidt, University Library
Ana Serra, College of Arts and Sciences
Martin Shapiro, University Library
Richard Stack, School of Communication
Gary Weaver, School of International Service
Denise Wilkerson, Office of the Provost