AU Insiders
PR Director Trades California Coast for Cooler Climate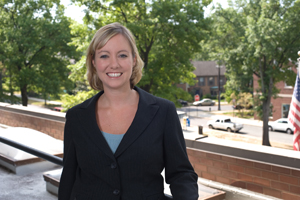 After calling Washington state and California home, Franki Fitterer is ready to conquer another coast.
The new director of public relations at the Washington College of Law (WCL), Fitterer came to AU from the California Western School of Law in San Diego, where she managed media relations, publications, marketing programs, and Web content. Though it was difficult to leave the sand, surf, and 70-degree temperatures behind, Fitterer said she was ready for a change.
"When I tell people I'm from San Diego, they all ask 'Why would you ever leave?' I was looking for a city with more opportunities. There's just so much going on in D.C.—and the weather isn't too cold," said the Tacoma, Wash., native with a laugh.
Since settling into her Dupont Circle home in mid-July, Fitterer has enjoyed exploring the city, meeting new friends, and entertaining out-of-town guests. It's been a seamless transition from West Coast to East, save for one thing: "I haven't yet decided if I'm going to be a Nats fan or an O's fan," laughed Fitterer, an avid baseball enthusiast. "I'm starting to feel the pressure."
Over at WCL, Fitterer, a journalist by training, has spent her first few months on the job learning about the school's programs and people.
"The size of the school is an adjustment, as it's quite large compared to where I came from," she said. "WCL has so many fascinating programs and faculty, and so many great stories to tell."
As director of public relations, Fitterer works with reporters, manages all of WCL's publications and advertisements, and helps with the school's Web content.
"In media relations, no day is the same. You have to know everything that's going on, and you have to be able to react quickly," she explained. "I like that kind of environment, though; I've always thrived in a deadline-oriented position."