Achievements
Students Imagine a Campus with Smart Chip Technology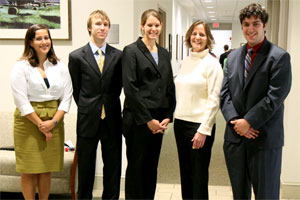 Eighteen undergraduate students competed in the fourth annual "Best-in-Class" Information Technology Review Competition. The competition, hosted by the Information Technology Department, is the culmination of a semester long project in Kogod's Edge of Information Technology core course. The class project gives students an opportunity to work in teams while exploring a new technology and how it will impact the business world. The competition recognizes the finest report and presentation from across the sections.
This semester's finalists explored a variety of technologies, including EnergyWise, Wireless Sensor Networks, and Flexible Displays. The winning team of Kaitlyn Rooney, Alex Rosenberg, Joanna Schrank, and Ian Wittkopp explored how Smart Chip technology could improve the capabilities of American University's student IDs. The team proposed using the Smart Chip ID for dorm room access, health records, parking and printing payment, scheduling adviser appointments, and class attendance. Their presentation described the ease, efficiency, and evolution of the technology.
Executives from Deloitte Consulting, Oracle Corporation, Alta IT Services, SRA International, and AT&T Global Business judged the competition. Teams were scored based on their delivery, content, and an executive summary. In addition to being deemed the best of the best, competitors had the opportunity to practice their communication skills, network with industry professional, and receive coaching from the Office of Business Communication.
Congratulations to all the competition participants: Stacia Klim, Brooke Sheppard, Linsey Sledge, Einar Bar Shira, Felipe Cano, Jaime Acosta, Rebecca Oren, Rachel Schaub, Benjamin Sigman, Benjamin Silver, Hamad Al-Mufarrej, Patrick Guarino, Samson Oyemala, and Alexi Sacco.