Business
E-Commerce at Heart of Kogod Case Competition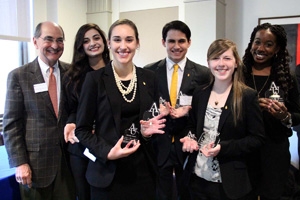 In true 21st Century fashion, the 21st annual Kogod Case Competition took a look at e-commerce in the ever-changing world of publishing, specifically how it could be approached by the National Geographic Society (NGS).
Just before midnight on Tuesday, February 5, 140 student competitors gained access to the case, giving them just more than 72 hours to develop a plan of action for the NGS. From the bare outline of the NGS' current organizational structure and online practices, teams developed plans ranging from complete departmental reorganization to new product delivery methods.
"I wasn't sure what to expect in way of ideas from the students, but I was very impressed by their creativity and forward-thinking," said first-time judge Martha Houle, director of education at Children's National Medical Center.
Real-life Learning
While many hours of sleep were lost and careful juggling of regular classwork and case preparation became the norm for the better part of three days, student competitors agreed the experience made it worth it.
"It was a tough case but the concept was great," said Luke Vinci, BS '14. "It really made us think outside the box because it wasn't really a quantitative question."
For team Tenley Consulting, made up of MS in Finance students, the lack of quantitative data to draw from was a challenge.
"It was a lot different than I expected it to be; we really had to work outside our comfort zone but I think that was good," said Parker Utter, MSF '13.
"I think we had to rely more on common sense and our past experiences," said Utter's teammate Roman Vejmelka, MSF '13. "It was hard but in a good way."
The competition, which is open to all AU students, teaches concepts useful to many degrees.
"This was a different kind of thinking than anything we learn in law school," said Darshan Chulani, MBA/JD '15. "We had to get more creative [in this competition] than we would in most law cases. This was all about the end result and not so much the process."
New Divisions, New Scoring
This year marked the first year for new team divisions, to allow for the more student recognition, and a new scoring method, designed to allow more specific judge feedback, according to event organizers. 
New team divisions were named for major thoroughfares in D.C.:
Massachusetts: Teams comprised only of undergraduate freshmen and sophomores by credit hours.
Nebraska: Teams primarily comprised of juniors and seniors by credit hours, may include up to two underclassmen and no graduate students.
Wisconsin: Teams primarily comprised of graduate students and up to two juniors and/or seniors.
New scoring guides allowed judges to give a team a maximum of 60 points, divided among the categories of: Critical Issues; Evidence; Recommendations; Questions and Answers; Delivery; and Overall Impression. 
The top three teams in each division advanced to the finals, where the winners received bragging rights. Members of each first place team received $175, second place $125, and third place $75.
Seeing the Future of Business
For many of the judges, all of whom are volunteers, participating in the case competition is a chance to see the future of the industry.
"The students have so much energy and so many fresh ideas," said returning judge George Brown, managing director of Protiviti Inc. "They're all trying hard to collaborate with their teams and it's great to imagine how they'll continue growing and where they'll go in the future."
In his closing remarks before presenting the final awards, Dean Michael Ginzberg also recognized the talent and hard work of the students.
"This is always an important day for [Kogod]. Experiential learning is a pillar of our program, and I think we saw a great many innovative ideas brought down to the real world today."
Winning Teams
The top three teams from each division advanced from the preliminary round to the finals, which took place after lunch. Teams had 30 minutes to prepare for their final presentations.
Massachusetts Division Final Rankings
First Place—Golden Globe Consulting: Osato Aibangbee, BSA '15, Nida Ali, BSBA '15, Gian-Manuel Alvarez, BSA '15, Megan Audet BSBA '15, and Selina Scharr, BSBA '15.
Second Place—Thrive Enterprises: Jiayu Cui, BSA '15, Anna Meh Feindt, BSF '16, Matteo Garofalo, BSBA '16 and Jacob Wanner, BSBA '15.
Third Place—J&J Consulting: Nkemdilim Chukwuma, BS '16, Janu Sonthi, BSBA '16, and Jennifer Zolla, BSBA '16.
Nebraska Division Final Rankings
First Place—Strategic Enterprises: Dain Clarkin, non-degree exchange student, Jing Gao, BSBA '13, Jennifer Storozum, BSBA '13, and Vesela Velinova, non-degree exchange student.
Second Place—The Kogod Elite: Jake Carias, BA '15, Carlos Sanabria, BSBA '13, Nicholas Tan, BSBA '13, and Matthew Zonis, BA '13.
Third Place—Zealot Consulting Group: Jasmine Guo, BSBA '14, Britney Jamison, BSBA '13, Trey Kwasny, BSBA '13, Thuan Nguyen, BSF '14, and Erik Payn, BSM '13.
Wisconsin Division Final Rankings
First Place—SALT: Kate Knorr, MBA/MA '14, Kristen Pierce, MBA '14, Alexander Ries, MBA '14, and Alex Shvetsov MBA '14.
Second Place—District Consulting Group: Jed Byers, MBA/MA '15, Renee Ledoux, MA '14, Daniela Otoya, MBA '14, and Walker Sands, MBA '14.
Third Place—LN2: Naif Alawi, MBA '14, Lauren Chriss, MBA '14, Laura Denton, MBA '14, and Nazgol Zand, MBA '14.