AU Insiders
Advisor Knows the Scholarship Ropes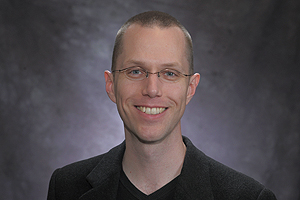 Chris Swanson's year began in Vienna, Austria, where he enjoyed two operas and visited spots he knew as a Fulbright recipient in the Austrian capital.
Back at AU, he helps give students their own best shot at going to Vienna—or South Korea, Tajikistan, or other places their academic curiosity draws them. 
One of three advisors in the Office of Merit Awards, Swanson works with students who are competing for plum national awards such as Fulbright, Boren, and Critical Language scholarships.
AU students are successfully landing these awards, with aid from the high-powered trio of advisors behind the scenes: director Paula Warrick, associate director Joan Echols, and merit award advisor Swanson, who also teaches drama as an adjunct professor at Catholic University and holds advanced degrees in dramaturgy from Yale.
Steering students through the application process involves months of intense effort. Take a Fulbright application. "Realistically, you have to go through 10 or 12 drafts," Swanson says. It's as demanding as an independent study course.
The essay has to pass Swanson's critical eye. He encourages students to log library time and, crucially, to network with faculty. "The student's success is usually only as good as their own ability to network with experts," he says. "We rely so heavily on faculty. They're crucial to what we do. There are a bunch of faculty on campus who go genuinely above and beyond what anyone is asking them to do."
Swanson has served as a judge on several scholarships, such as the Critical Language Scholarship, and has the inside tips. "There's a crazy number of applicants for Arabic, probably 2,000 a year, and there are 150 available spots for Arabic studies. The competition is just ridiculous, so some people say 'OK, I'll switch to Turkish.'
"But you know what? The judges know you're switching to Turkish because you think you won't win in Arabic." Follow your interests—and hope for the best. In fact, he worked last year with a number of students who did win highly prized Arabic scholarships.
AU's Office of Merit Awards may be the largest in the country in its staff-to-student ratio. It's part of the Career Center, but Swanson and his colleagues work full-time with students competing for prestigious scholarships and fellowships. Swanson's focus includes the undergraduate Fulbright and Boren applications, Critical Language Scholarships, and teaching assistantships in several European countries.
Last year, for instance, he helped seven of AU's 16 Critical Language Scholarship winners compete successfully with about 4,400 applicants nationally; was involved with all five of AU's Fulbright scholars; worked with two undergraduate Boren winners; and helped students win teaching assistantships to France, Spain, and Austria.
But winning isn't the whole story. "I've yet to hear anyone say, 'Oh, boo hoo, I put all this work in and I've just wasted half a year.' You learn what it is you're actually interested in," he says, "you learn the gaps you need to plug, you cement relationships with faculty. The process itself is extremely enlightening."