Science
Public Health Cohort Comes Full Circle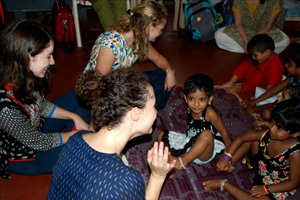 Imagine graduating from college in three years with a full bachelor's degree, having studied abroad once if not twice, and having gained valuable real-world experience. This is the soon-to-be reality for the first cohort of Public Health Scholars Program students in the College of Arts and Sciences. The three year, 120 credit program is the same as a full four year program but on a compressed timetable that gives students access to all of the resources they need to complete their degrees in time.
"Nobody graduates in three years without a perfect plan, and I have several advisors to ensure that I can achieve the degree I am interested in within my time here at AU," says Public Health Scholar Quinn Hirsch. "I don't consider myself rushed in any way; rather it is a clearer focus, a better plan."
"I have always loved taking on challenges, and being part of a three-year accelerated program was going to do just that," says Public Health Scholar Juana Cerna. She went on to say that the "idea of living with other students that shared the same interests as me gave me more confidence. I would have people I could go to if I needed anything."
Students who are part of the cohort complete a rigorous course of study throughout the spring, summer, and fall semesters in order to complete their studies, which can earn them a BS or BA depending on their choice of curriculum. During their first year, the students live in the same dorm and complete specialized service engagement activities together.
Being around the other scholars is an important factor in the program, designed to give students resources beyond the program director and the live-in upper class program associate.
"The cohort was the perfect support network that I needed in order to succeed in adapting to AU and D.C. as a whole," Cerna says. "I was very fortunate to meet them and I feel like I can attribute my academic success to their support."
Assistant Director of the Public Health Scholars Program Blake Bennett says that "students are attracted to this program because the combination of living with their cohort and the service-learning component really enhances the students' learning. The function of the service-learning requirements is to provide the students the opportunity to see how concepts discussed in class connect to the operations of several public health organizations."
By the time they are in the second year of the program, they have the opportunity to study in Nairobi, Kenya, Manipal, India, or London, England. "With an ever increasing globalization of economies, cultures, and goods and service, it is important for students entering a career in public health to have an understanding of global issues. The goal of the study abroad requirement of the program is to provide the students a better global perspective through personal experience. The three sites were chosen because each country has unique challenges and approaches in preventing diseases and providing healthcare for its citizens," states Bennett.
Hirsch was among the students who went to Nairobi, where she completed an internship at Wema Hospital in Kawangware. "I know I will feel completely prepared to work in the allied health profession," says Hirsch. "Having specialized study abroad options makes the program more personalized. I know that the directors of my program have specifically made these options abroad for me, ensuring that these work in my schedule and would best benefit me as a student of public health."
Cerna, who studied in Kenya, calls the experience invaluable.
"I was not only able to complete three out of four public health elective courses, but also complete the required internship as part of the curriculum," Cerna says. "As a premed student shaving off that internship early made me extremely thankful. In fact, I was able to add my two minors: biochemistry and mathematics!"
Cerna plans on working in a hospital after graduation while she prepares applications to joint MPH/MD programs at some of the top schools in the nation.
"Now that we're near the end, I can say I loved being a part of the three-year public health scholars," Cerna says. "It was a very unique opportunity to meet a diverse set of students that became more like a family to me as time went by."