Achievements
AU Finishes Strong in Solar Decathlon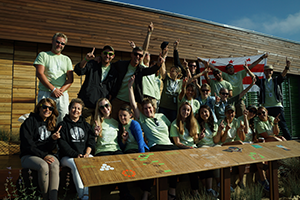 During the past two weeks, 19 student teams from all over the world—including one that counted American University students among its ranks—participated in the Department of Energy's Solar Decathlon competition, building solar-powered homes that are environmentally friendly, cost efficient, and aesthetically appealing.

The homes were put to the test in 10 categories: architecture, market appeal, engineering, communications, affordability, comfort zone, hot water, appliances, home entertainment, and energy balance.

On Saturday, Team Capitol DC—made up of more than 100 students and faculty advisors from AU, George Washington University, and Catholic University—placed seventh overall in the competition. The team finished second in comfort zone, appliances, and home entertainment and fifth in communication.

Take a virtual tour of HARVEST HOME

From Behind the Camera to Hanging Drywall

For MFA film student Elizabeth Linares, working on Team Capitol DC was an opportunity to take her experience in film and apply it to a completely new field.

Linares became involved in the HARVEST HOME project while in Sandy Cannon-Brown's environmental documentary production class—but didn't want her participation to end there.

"Once the class was over they were still building the house and I wanted to see what would happen and become more involved," she said.

As part of Team Capitol DC's American University team, Linares and her peers focused on the promotional aspect of the project, such as managing the team's website and blog. They also filmed the progress that was being made every day and interviewed their teammates with the "confessional camera."

But Linares found that her work didn't stop behind the camera. Everyone also had a chance to participate in the construction aspects of the project.

"Film gives you the opportunity to go into other fields you wouldn't have gone into otherwise, like putting up drywall or troubleshooting the whole project during the planning stages," said Linares. "We'd put the camera down, and say 'tell us what to do!' and then end up sanding something."

A Home Built to Heal

But what distinguishes HARVEST HOME is the person for whom it was built. The students designed their entry with a war veteran in mind—to be donated to the Wounded Warrior Homes organization, that provides temporary housing for wounded veterans.

With this in mind, a the group sought to create more than just a house—but rather a home designed to be a place of calm and healing, specifically for those suffering from post-traumatic stress disorder. A key strategy of HARVEST HOME's design is connecting its future inhabitants with nature.
Take a video tour of the HARVEST HOME landscaping

"One of the things that makes HARVEST HOME different is how much the landscaping is also part of the house," said Linares. "It has a great place to go outside and has a full-fledged garden with cherry tomatoes, okra, eggplants, basil, lemon balm, and more."
When Linares began working on the project, nearly two year ago, it was just models, planning, and mockups. She's thankful to have seen the project through to completion.

"This all gave me more of a sense of working on a long-term project. It was such a part of daily life," she said. "The highlight for me was coming in and seeing the house put together for the final walk through. I remember there being just steel frames and trying to imagine what it would look like in the end."

Regardless of the outcome of the competition, Team Capitol DC has been inspired by the project and by the more than 7,000 visitors who have toured the home. HARVEST HOME is a true testament to the varying expertise of all those who came together to make this project happen.

"You notice that people think about things differently than you," said Linares. "The people building the house thought it was interesting how much we considered lighting and angles for a perfect shot, and it never occurred to me that there was more to a house than four walls and a roof. Now I know!"