Achievements
Student Earns National Environment Scholarship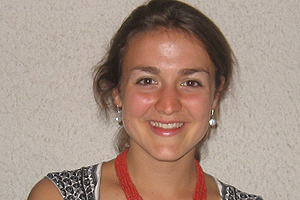 Any student hoping for a career in the environment has to have an understanding of myriad complex issues. Julie Munro, a junior environmental studies major, has that understanding and it earned her a 2009 Morris K. Udall Scholarship.
She is one of 80 Udall scholars, chosen from a field of 515 university-nominated candidates and the eighth Udall scholar from AU since 2000.

The annual merit scholarship awards $5,000 to sophomores and juniors who are committed to careers in the environment, Native American health care, or tribal public policy. Candidates are reviewed based on their potential to become leaders across a wide range of environmental fields, including policy, science, education, business, and economics.  

By any measure, Munro lives up to the standard set by the selection committee.  A straight-A honors student, Munro is tackling environmental issues from sustainability, to food security and the importance of local produce for low-income urban Americans.

She currently serves as the president and treasurer of AU's Eco-Sense student club, playing a major role in launching efforts to create a carbon-neutral campus. Munro also serves as the appointed student representative for environmental issues to the AU Dining Services Project Team and the University Council.

A native of Delmar, New York, Munro has taken her passion for environmental issues beyond the classroom and miles from AU or her hometown to the streets of urban Rhode Island. An internship with Southside Community Land Trust in Providence sparked her interest in creating community networks that supply affordable, locally produced food through environmentally sustainable practices.

Morris K. Udall served in the House of Representatives for three decades, where his love for the environment resulted in numerous pieces of legislation, including the Alaska Lands Act of 1980, which doubled the size of the national park system and tripled national wilderness.

Munro will travel to Arizona this summer to meet the other scholars and receive her scholarship.