Arts
South African Judge Discusses Art and Politics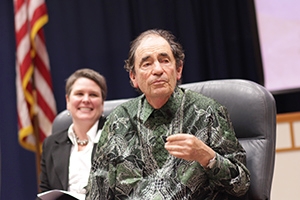 This fall's Arts Management Colloquium, a joint event with the Washington College of Law, took place on November 18. Albie Sachs, a founding member of the Constitutional Court of South Africa and a human rights activist, spoke about the role the arts played in the establishment of a democracy in post-apartheid South Africa. 
Despite growing up in an activist family, Sachs initially pushed back against assumptions that he would follow the same path his parents walked. They saw the plight of Africans in South Africa as a parallel to their own treatment as Jews in Lithuania prior to World War I. 
Sachs enrolled at the University of Cape Town at age 15, and it was then that he began to get involved in politics and human rights. He joined the Modern Youth Society, which was committed to the ideas of free thought, progressive politics, and an egalitarian, multiracial society. When he was 17, he joined the Defiance of Unjust Laws Campaign, which was a campaign of civil disobedience against apartheid. Sachs began practicing law at the age of 21 in Cape Town, where he defended those charged under apartheid racial statutes and repressive security laws. 
In the 1960s, the South African government introduced a new law that allowed political prisoners to be detained for 90 days without charges filed against them. Sachs was arrested (for the first time) in 1963. After 90 days, he was released and arrested again immediately upon his release. Two and half months later, he was released. Then in 1965, he was arrested again, this time under the 180-Day law, which allowed for longer periods of detainment without trial.
In 1966, Sachs went into exile in England, where he studied and taught law. He later went to Mozambique and worked as a law professor and legal researcher. In the 1980s, while still in exile, he helped to write the African National Congress's Code of Conduct and its statutes. As a member of the Constitutional Committee and a national executive of the congress, he returned to South Africa in 1990 to help with the negotiations that led to the country becoming a constitutional democracy. When Nelson Mandela was elected president in 1994, Sachs was appointed to serve on the newly established Constitutional Court. 
Because of his background in law and the arts, it only made sense to host this Arts Management Colloquium's event at the Washington College of Law. AU's program began with a multimedia tour of the South African Constitutional Court built on the site of the infamous Old Fort Prison in Johannesburg in which many prisoners were unjustly held, including world leaders such as Nelson Mandela and Mahatma Gandhi. Sachs led the design of the building, which expresses the ideals of the new democracy through its architecture and the collection of South African art works inside. Every nook and cranny of the court has South African art at its core, from the lobby design motif that reflects the African tradition of "justice under a tree," to the courtroom itself in which the bricks of the old prison were used for the exterior walls, thereby transforming the bricks of oppression into bricks that uphold justice. Sachs said the light-filled design was inspired by a fellow justice who mentioned that her mother might ask, "Is the building smiling at me or frowning at me?" The question reminded Sachs that the building should serve as a symbol of both common sense and justice. It should reflect the most aspirational ideals of democracy and also be a place that felt open and welcome to all South Africans. 
As part of the program, Anne L'Ecuyer, a faculty member in the Arts Management Program, facilitated a brief artistic exchange between Sachs and the audience. Participants received handmade paper objects shaped like leaves and were invited to explore the concept of Ubuntu, an African philosophy that means "I am because you are." As the discussion began, L'Ecuyer asked everyone to hold the leaves above their heads, and to rustle and wave them at Sachs. "We did this in your honor and to extend the idea of justice under a tree," she said, "To show that we are all under a tree together. We are a tree here tonight." Sachs said he was surprised and moved by the gesture. 
L'Ecuyer asked Sachs how the arts came to be such an important part of his life. "I can't separate art from all the elements. It all came into my life in different ways," he said. Both of his parents were involved in the struggle against apartheid and joined the Communist Party in the 1920s. His father, Emil Solomon Sachs, was a leader of the South Africa's Garment Workers Union. His parents emigrated to South Africa from Lithuania. 
Music was also woven into the evening's program. After singing two phrases of the spiritual, "Standing in the Need of Prayer," Sachs stopped and mused that if the group were in South Africa, everyone would have joined in by then. At another point, he addressed how music and musicians are sometimes ahead of their time: "Our jazz musicians wrote our Bill of Rights in music before we wrote it in words." He ended the evening by singing Irving Berlin's "Always," a song that helped him get through the long months of imprisonment. 
Sachs also noted the more practical connection between the arts and law. "Clearly, when you are writing a judgment, you respect the conventions and the presentation, but even then you can use language to express it a certain way," said Sachs.