In the Community
Visiting Scholar Revisits D.C.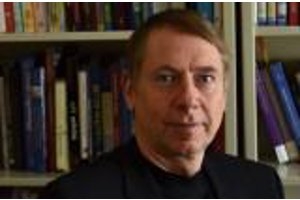 Professor Michael Minkenberg arrived in D.C. just in time for Barack Obama's second inauguration. For a political science scholar, it was perfect timing. He went to hotel bars and engaged with people from all over the U.S. to get a sense of how they felt about the reelection.

He is visiting SIS as a professor of political science at European University Viadrina in Frankfurt to build on his research about the role of religion in Western democracies.

"As a political scientist, Washington is one of the most fascinating places to be in the U.S.," said Minkenberg.

He has known the District since the 1980s, when he interned on Capitol Hill and pursued a master's degree in American Government from Georgetown University. American University, however, was the first campus Minkenberg ever visited in the U.S. He came to AU for a Fulbright Scholars' orientation that SIS Professor Gary Weaver organized in 1983.

"I have known Weaver longer than any other professor in the U.S.," he said.

Minkenberg is an accomplished scholar both in the U.S. and in his home country of Germany. For more than twenty years, he has traveled back and forth between both countries. In 1989, he obtained a Ph.D. in Political Science from the University of Heidelberg. Years later, he held the Max Weber Chair for German and European Studies at New York University, and taught at Cornell.

He is back in DC until spring to work on his newest project. He will explore the boundaries between religion and the state, the differences that exist between countries, and how the changing "religious map" plays into the process.

"How is the boundary made? Muslims in the West are always a minority. They are newcomers in most countries, so do they participate in the drawing of the boundaries?" asked Minkenberg.

When he is not trying to answer such questions, he likes visiting the city's museums and dining with friends and colleagues. He also likes drinking beer, and was pleasantly surprised by new offers in local businesses.

"Coming from Germany, it's not so surprising that I like beer a lot," he said. "When I came in the 80s, the beer was terrible - now it's much more drinkable."

In addition to his studies on religion and politics, Minkenberg is interested in power and architecture, especially how one shapes the other. He is preparing a book on this topic, and sees D.C. as a good example of how a nation can imagine its capital from zero. He is also an expert on the radical right, immigration and nationalism.

Before returning to Germany, Minkenberg will give lectures on these topics at AU, Georgetown University and the University of California, Berkeley.