Business
Kogod Welcomes Five New Faculty Members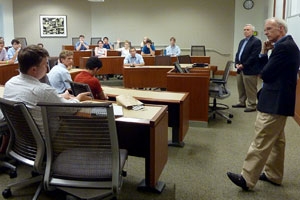 In addition to a diverse crop of new students, this fall Kogod is also welcoming five new faculty members to the business school, in the Finance, Management and Marketing departments.
Finance
Kogod's Finance department welcomes new tenured Professor Jeffrey Harris, who will hold the Gary D. Cohn Goldman Sachs Chair in Finance. The chair was created this year by an endowment from alumnus Gary Cohn, BSBA '82, and Goldman Sachs. Cohn is the current President and COO of Goldman Sachs.
Harris comes to Kogod after five years at the University of Delaware and two years at Syracuse University, where he was the Dean's Chair in Finance. He also served as the chief economist at the U.S. Commodity Futures Trading Commission (CFTC) from 2007-2010.
His current areas of research are in market microstructure and the correlation between rule changes and executive behavior.
"I think the key to carrying out cutting-edge research is staying on the cusp of 'the next big thing,' by staying on top of what's going on in the industry," he said.
Harris will be teaching Finance 576: Student-Managed Investment Fund (SMIF) for undergraduate and graduate students this fall, along with Finance 614: Financial Management, for MBA students.
Also joining the Finance faculty is Assistant Professor Todd Prono.
Prior to Kogod, Prono was a financial economist at the CFTC. He's also served at the Federal Reserve Bank of Boston and at JPMorgan Securities.
Prono's current research covers the fields of financial econometrics and asset pricing. He will be teaching the undergraduate course Finance 365: Investment Analysis.
"Through teaching, one becomes better at the subject himself, especially the simple things that may easily be taken for granted," he said.
Management
New Executives-in-Residence Tommy White and William Bellows are no strangers to Kogod.
White, co-founder and former CEO of the Institute for Public-Private Partnerships, earned his MBA from Kogod in 1995 and taught entrepreneurship courses last year as an adjunct instructor.
In addition to resuming his graduate-level entrepreneurship course in the spring, White will be teaching three sections of KSB 100: Business 1.0, the introductory business course for freshmen and transfer students.
"My philosophy is that knowledge allows for the development of ideas…my job is to teach and train [students] to develop their own thought process," he said.
Bellows, co-founder of mobile applications developer OneWhitePixel, comes to Kogod after eight years as an adjunct professor at the University of Maryland's A. James Clark School of Engineering, where he taught entrepreneurship through case methodology. He also co-taught with White last year.
In addition to Management 382: Entrepreneurship and Innovation for undergraduates, Bellows will also be teaching Business 1.0 and hopes to combine academic skills with hands-on experience.
"I think students learn more and learn better when professors speak less," he said of his teaching style.
Marketing
Joining the Marketing department is Assistant Professor Nelson Amaral.
Amaral comes to Kogod from the University of Minnesota, where he earned his PhD in Business Administration with a specialization in Marketing. His research centers on ethical behavior and the social constructs of brands.
Kogod appealed to Amaral due to American University's scholar-teacher model, he said. He's looking forward to building mentoring relationships with his students.
Amaral will be teaching Marketing 250: Fundamentals of Marketing and Business for Communications and Media, an introductory marketing course for undergraduate non-business majors.
"I'm looking forward to showing [the students] how diverse marketing is, that marketing really does touch every part of business, it's so much more than just sales and advertising," he said.