In the Community
Professor Judith Shapiro Debuts "China's Environmental Challenges"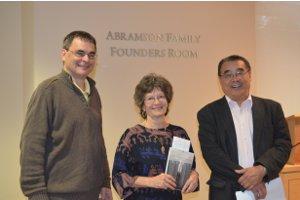 Professor Judith Shapiro of the Global Environmental Politics and Natural Resources and Sustainable Development programs unveiled her newest book, China's Environmental Challenges (Polity Books 2012) on Oct. 2 at SIS.
As an environmentalist and China specialist, Shapiro focused her book on the implications of globalization, the challenges of governance, contested national identity, the evolution of civil society and problems of environmental justice and equity.
"I wrote the book to encourage professors of Chinese politics to include a unit on the environment in their courses, and to encourage professors of environmental politics to include a unit on China in their courses," said Shapiro. "I think China is so important to the future of the planet that anyone serious about sustainability needs to consider the challenges that China's growth poses."
Shapiro explained, "As China goes, so goes the planet."
The event was sponsored by the Global Environmental Politics program and the Center for Asian Studies, and hosted by Professors Ken Conca and Quansheng Zhao.
"China's Environmental Challenges is intended to raise as many questions as to answer them, and provide a framework as to what questions to ask," Shapiro said.
Shapiro is also the author of Mao's War Against Nature (Cambridge University Press, 2001), Cold Winds, Warm Winds: Intellectual Life in China Today (Wesleyan, 1988) and Son of the Revolution (with Liang Heng, Vintage Books, 1984).