Contact:
Tubman, Jonathan G.
Vice Provost for Research & Dean of Graduate Studies
Take advantage of our FREE skills workshops, speakers and other events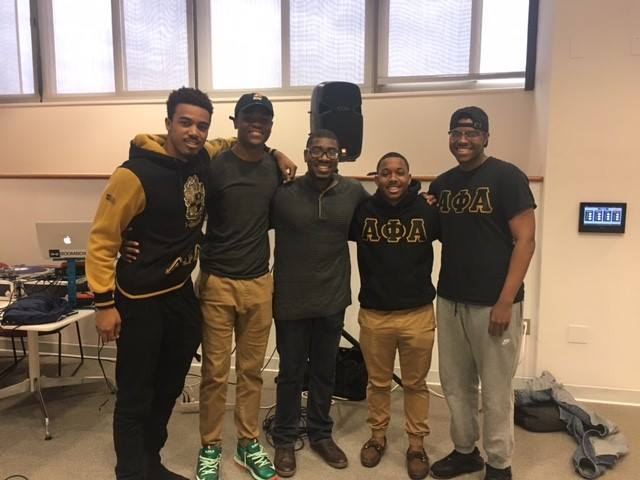 Each semester, the Office of Graduate Studies and Research offers skills workshops to help graduate students enrich their academic and professional lives. Workshop times and rooms are subject to change, so be sure to follow us at Facebook and Twitter to have the latest information. Want to attend a workshop? Sign up using the form at the bottom of the page.

Graduate Enhancement Series Workshops


*Note: Room 115 in the library has been moved to the back of the library and renamed Room 150.
Reading Strategies
Presented by Ira Fabri, Academic Support and Access Center
Are you struggling to get through your course readings? This workshop will help you read more efficiently and effectively to achieve course goals. We will share active reading strategies, tips for creating context around your readings, and how to take useful reading notes. We will also briefly discuss methods for effectively engaging with PDFs and electronic texts.
Sept. 11, 2017
4:30 PM
SIS 300

Speed Reading
Presented by: Rebecca Desantis, Academic Support and Access Center
Are you interested in increasing your reading speed? This workshop will help you learn ways to improve your reading speed and comprehension through the techniques of meta-guiding and rapid serial visual presentation.
Sept. 18, 2017
4:30 PM
SIS 300

Pivot Training & Foundation Directory Funding Tools: Find the Grants You Need
Presented by Jennifer Maher, Communications Manager, Office of Sponsored Programs
The Office of Sponsored Programs offers informational sessions for faculty and staff interested in independently searching for funding opportunities. The information sessions will provide training on how to use our current funding opportunity database, Pivot, and will assist faculty and staff in developing user profiles to receive direct funding opportunity announcements related to their research/program interests.
Sept. 20, 2017
5:30 PM
SIS 300

Time Management I
Presented by Lindsay Northup-Moore, Academic Support and Access Center
Time management is the foundation to one's success in graduate school. Juggling classes, schoolwork, work, and life's demands is difficult and can lead to undue stress that affects your performance and productivity. Attend our workshop to learn about planning and study apps, prioritized to-do list-making, strategic studying, and multi-tasking to help you stay on top of your work, hopefully with time to spare. It is sure to be a good use of your time!
Sept. 25, 2017
4:30 PM
SIS 300

Theses and Dissertations: Electronic Submission Process
Christopher Lewis, Associate & Media Librarian, University Library,
Lauren Tabbara, Director, Graduate Academic Programs, CAS
Alayne Mundt, Resource Description Librarian, American University Library
Stacy Marien, Acquistions Librarian, University Library
This session will provide critical information about the thesis and dissertation completion process, including: formatting requirements, the online submission system, your publishing options, and copyright considerations. Whether you are just beginning your thesis or dissertation, or plan to submit it this semester, come learn about the resources available to help you.
Sept. 26 2017
4:00 PM
Library 150*


Time Management II
Presented by Lindsay Northup-Moore, Academic Support and Access Center
Time management is the foundation to one's success in graduate school. Juggling classes, schoolwork, work, and life's demands is difficult and can lead to undue stress that affects your performance and productivity. Attend our workshop to learn about planning and study apps, prioritized to-do list-making, strategic studying, and multi-tasking to help you stay on top of your work, hopefully with time to spare. It is sure to be a good use of your time!
Oct. 2, 2017
4:30 PM
SIS 300

Overview of Grant Proposals
Presented by Christina Corvo, Grants and Contracts Manager, Office of Sponsored Programs
Learn how to submit proposal at American University in this 60-minute workshop. We will discuss developing your project idea; identifying funding sources; timelines; proposal elements; and tips from the Office of Sponsored Programs. Be prepared to bring any questions you might have about the proposal process.
Oct. 09 2017
4:00 PM
Library 150*


Fulfilling (and Excelling at) your Foreign Language Requirement Examination: Resources and Strategies
Presented by Gorki Cruz, Director, Center for Language Learning, World Languages and Cultures
We will start by looking at the current format of the exam and look at some samples. We will continue with a discussion about what is entailed by the exam and tailoring your prep efforts to address the exam's demands. We will then utilize a standardized instrument so you can determine your foreign language experience and have a clear idea of where you stand in regard to the required proficiency. For those starting a new language or brushing up on a language, we will discuss specific language study strategies and the resources available on campus. The sessions will take place in the Center for Language Learning in the Asbury Building.
Oct. 11, 2017
4:30 PM
CLEAR (Asbury Building, B-29)

Making the Most of Mentoring
Presented by Marshay Hall, Project Coordinator, Office of Graduate Studies
Are you a grad student looking to build a productive and professionally rewarding relationship with a faculty mentor? Then join us to discuss what to look for in a mentor, the importance of communication and expectations, discussing and handling differences. We'll share worksheets, resources, and tools that will help make a mentoring relationship successful!
Oct. 18 2017
4:30 PM
Library 150*

Fulfilling (and Excelling at) your Foreign Language Requirement Examination: Resources and Strategies
Presented by Gorki Cruz, Director, Center for Language Learning, World Languages and Cultures
We will start by looking at the current format of the exam and look at some samples. We will continue with a discussion about what is entailed by the exam and tailoring your prep efforts to address the exam's demands. We will then utilize a standardized instrument so you can determine your foreign language experience and have a clear idea of where you stand in regard to the required proficiency. For those starting a new language or brushing up on a language, we will discuss specific language study strategies and the resources available on campus. The sessions will take place in the Center for Language Learning in the Asbury Building.
Nov. 1 2017
4:30 PM
CLEAR (Asbury Building, B-29)