On Campus
Graduate Student Merges Public Sector Background And Private Sector Ambitions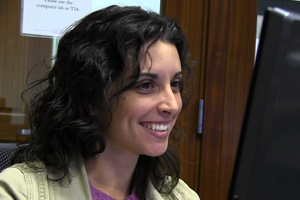 Stephanie DaCosta, MA/MBA '13, is extremely passionate about social and environmental responsibility.
MBA Student Profile - Stephanie DaCosta from Kogod School on Vimeo.
With her background in the public sector, Stephanie decided that in order to make a stronger business argument for the environment, she needed the quantitative skills that a management degree provides. That's why she's pursuing an MBA alongside a master's in global environmental policy from the School of International Service.
"One day I might want to lead a nonprofit, and an MBA will give me the necessary skills to achieve that," she said.
Her involvement in Kogod's graduate Net Impact chapter has also given her the opportunity to contribute what she's learned in the classroom to projects outside of AU. She worked with a group of fellow MBA students on a consulting project that seeks to empower Millennials for Service Corps, a Net Impact program that allow members to use their business skills to help their communities.
Despite her clear focus, the initial transition from the working world back to the life of a full-time student wasn't an easy one. "I had to find ways to help advance my career, like internships, club participation, and networking," she said.
Meeting a lot of different people from a variety of different backgrounds at Kogod has helped. "I think it's important, especially in a new environment, to know the people you're going to spend most your day with, and become friends with them."
Strong relationships with her classmates and staying organized, she says, have been key to her success as she enters her final year at AU.