Final Perk, fall 2011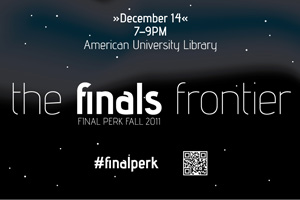 It's time for the biannual Final Perk coffee break, The Finals Frontier. On Wednesday, December 14, between 7 and 9pm, the library's Mud Box Café will be transformed into a research vessel to explore the far reaches of the known universe—with free coffee, drinks, and cookies. You might even spot an extra-terrestrial or two. Take a break from paper writing and studying and enjoy the festivities.
This marks the eighth year that the library has sponsored this end of semester study break along with important partners, including the Mud Box Café, Friends of AU Library, Student Government, Student Activities, Graduate Leadership Council, and the Residence Hall Association.