Literature
When Domestic Abuse becomes Domestic Homicide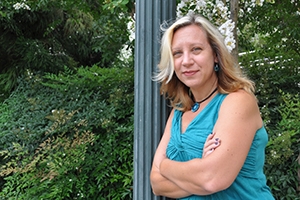 She covered the Afghan war following 9/11, was in Indonesia for the relief efforts following the tsunami, traveled through India interviewing the Dalai Lama, wrote about genocide in Cambodia and the quest to bring the Khmer Rouge to justice, and interviewed forced-sterilization victims in Tibet.
But College of Arts and Sciences writing professor Rachel Louise Snyder's latest journalistic project, one that she researched for 3.5 years (longer than she did for her first book) examines a violent crime here in the United States that is underreported to law enforcement and in most cases, equates to punishment, rather than protection, for victims: domestic violence.  
Snyder's article, "A Raised Hand" was recently published in the New Yorker and has sparked a nationwide conversation about how to best prevent cases of domestic violence from escalating into domestic homicide.  
Imprisoned Victims

While Snyder was researching the piece one true "Aha" moment came to her while looking at the role of women's shelters, which traditionally have been viewed as the best protection for victims. 
The drawback of women's shelters, Snyder said is that they can be "profoundly disruptive." Victims are often cut off from friends and family and are forced to leave their lives behind. Sometimes this means taking children out of school, quitting a job, and leaving behind pets and family heirlooms.

"Tell me any other crime where the victim has to be imprisoned," Snyder said.

One Crisis Center's Successful Method

Once the victim's safety is secured, this isolation of victims is one issue that the Jeanne Geiger Crisis Center, the facility where Snyder researched this piece, sought to mitigate. The center, located in Essex County, Massachusetts (about an hour north of Boston) is headed by Suzanne Dubus, chief executive officer, and by Kelly Dunne, chief operating officer. 
Dunne, who began volunteering as an advocate at the courthouse on behalf of the crisis center in 1997, said she was stunned at the seriousness of the cases showing up in the courtroom. The national statistics on domestic violence are astounding. One in every four women is a victim of domestic violence at some point in her life, and every day, three women and one man are killed by their partners. Between 2001 and 2006, we lost 3,500 American soldiers in foreign wars; during that same time period, domestic violence homicide claimed more than 10,000 lives. Perhaps most stunning, it is estimated that about half of the women who are killed by their partners had sought help from law enforcement or the criminal justice system at least once.  
It was this last statistic, reported by Jacquelyn Campbell, Johns Hopkins University professor and leading expert on domestic homicide, that prompted Campbell to create "The Danger Assessment Tool"— a list of 20 risk factors associated with domestic homicides. Risk factors include gun ownership, strangulation, beatings while pregnant, and substance abuse.  
After hearing about Campbell's work, Dunne began to put the Danger Assessment Tool into action. In 2005, Dunne and Dubus created the Domestic Violence High Risk Team to identify high-risk cases and outline a plan of action for each case. The idea, Snyder said, was to anticipate situations in which domestic abuse could escalate into murder and intervene before that happened by "putting a framework around the abuser." This meant pushing for the abuser to serve time in prison, attend mandatory batterer's intervention or wear a GPS bracelet. It also meant pushing for more services to keep the victims safe: police check ins, legal counseling, and temporary transitional housing in some cases.  
Before the formation of Dunne's Domestic Violence High Risk Team, there was a domestic-violence-related death nearly every year in Amesbury alone, one of nine communities served by the program. Since the team began eight years ago in 2005, there has not been one single case of domestic violence ending in homicide in their caseload. 
A Push to Replicate 

Snyder said that there is now a push to replicate this model across the country. Since she wrote the piece, which ran in advance of National Domestic Violence Awareness Month in October, Snyder has received requests from several governor's offices asking how they can implement similar measures, and more than 40 media articles across the country have mentioned the piece. The crisis center is fielding dozens of calls asking for training on their model. Still, there is much work to be done. 
"Every moment I was shocked and surprised," Snyder said of researching this piece. "Even the statistics we have are so unrepresentative." For example, domestic violence regularly goes unreported; homicide reporting is voluntary by jurisdictions across the country and often cases of homicide are unclear, such as poisonings, for example, or car accidents. Additionally, Snyder noted, the statistics don't count domestic violence with same-sex couples, when the relationship is unknown, or in immigrant communities with undocumented victims. 
"Hopefully, this is moving the conversation forward in an important way," Snyder said.