On Campus
Information Technology Course Produces Data Savvy Graduates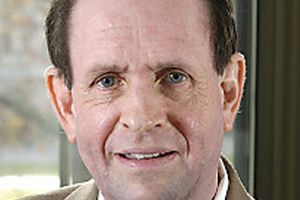 Reliance on intuition, that feeling in the pit of your stomach, isn't going to cut it anymore. Today, decisions are made based on data.
"We're training a type of manager that bases decisions on analysis," said Professor William DeLone, who designed ITEC-696, Business Intelligence, with former student Yana McConaty, MBA '98.
"Data is everywhere, but there's a scarcity of talent with the skills to create value from it," said McConaty, co-founder and principal of Washington, D.C.-based Neubrain—an enterprise planning, business intelligence, and performance management solutions firm.
DeLone is helping to educate the next wave of analytics professionals.
"Data-literate managers understand the forces driving outcomes, allowing them to better allocate resources and keep costs down," DeLone explained.
In 2011, the volume of available digital data exceeded 1.8 zettabytes. Each zettabyte is a trillion gigabytes; each of those is 1,024 megabytes, and on and on.
But numbers are just numbers without data managers to make sense of it. "Managers need to know what questions to ask of data," said DeLone.
DeLone's course is helping students recognize the relationships within data and ultimately, gain the expertise to predict, influence, and control results. Students like Tyler Coffey, MBA '12.
"Since one of my MBA concentrations is information systems consulting, I wanted a solid foundation in … the key topics surrounding company data," said Coffey, an IT decision-maker at Sigal Construction Corporation. "Professor DeLone's class has provided exactly that."
Today, companies have to make the best decisions the first time if they want to survive. "Many businesses do or die around data," said McConaty.
Growing Need
As the demand for analytics professionals increases, the need for managers with strong qualitative and quantitative skills is growing across a wide range of industries, including consumer goods, national retail and restaurant chains, financial services, and all levels of government.
Despite the need, the gap between demand and supply is widening. In part because the amount of digital data produced is increasing rapidly, but also because the pool of qualified professionals isn't large enough.
McKinsey Global Institute projected in February that the U.S. needs 1.5 million more data-literate managers.
"I believe that business intelligence will transform the way that most companies conduct business in the long term," said Coffey. "As a consultant or employee, it is a strong value proposition to have experience and real insight in this field."
The government, in particular, is hungry for individuals with these skills, McConaty explained.
"Kogod is marching in the right direction by creating a class that is not only about theory, but also practical training and exposure as well," McConaty said.
Jodi McDermott, VP of Product Management at comScore and MBA '00, emphasized the important role of analytics professionals when she spoke to DeLone's class.
"Data managers are expected to not only report on the numbers, but also analyze trends that may result in new revenue streams," she said. "The data analyst is seen as a core catalyst within the business and not just a support function."