Student Life
Student Council Leaders off to Strong Start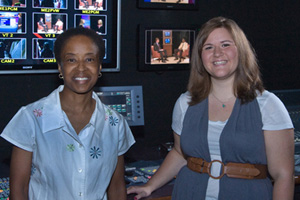 The School of Communication Graduate and Undergraduate Councils have two new presidents who are eager to get some events on the calendar and bring new members on board.
"Our major focus this year is to host activities the students think are valuable," says Bernice Harleston, president of the SOC Graduate Council. Rachel Karas, the Undergraduate Council president, has the same agenda: "My new board members and I want to bring professionals from all fields of communication to campus for diverse events. I would also like to host social events where SOC students can meet each other, with the help of good food and movies."
While it's still early in the semester, Harleston, a second-year graduate student from Silver Spring, Md., and Karas, a sophomore from Flushing, Mich., agreed to discuss their plans.
Q. What are your long-term plans for the council?
Harleston:  We will issue a survey later this month soliciting from SOC grad students their preferences for activities.  Once the responses are received and reviewed, we will make a schedule of events. We hope the results yield a mix of social and networking events.
Karas:  I want to have a stronger presence on campus, so fewer people will say, "Wow, I never knew SOC had a Council." I aim to create a sustainable organization known for bringing in speakers and hosting events that inform, engage and inspire members of SOC. We should also be a reliable voice of the SOC student body to the administration, so that as the school transforms, it will grow using student input and truly serve well those who it aims to teach. 
  Q. What reasons do you give other students for joining?
Harleston: To get the benefit of socializing and networking with other graduate students and faculty members.  Students are encouraged to take a break from their coursework and to enjoy an extracurricular activity.
Karas: We're a young executive board with great ideas, and I'd like as many people as possible to help us make them happen. Co-chairing an event has the possibility of introducing you to some of the most knowledgeable, powerful people in media. Plus, if you're interested in how the political process works from the inside, there's no better place to start than student government. If nothing else, it looks good on a resume.
Q.  What would you most like your group to accomplish?
Harleston: Increasing attendance at Council events so students have a meaningful opportunity to interact with each other and faculty members.
Karas:  I'd be extremely happy with one or two lecture events and one social event per semester. Ideally, we'll be able to bring some of the most successful communications professionals in for our events, including AU alumni who are proof that a degree from SOC is worth the time and money students put into it. I'd like the Council to earn a positive reputation with SOC and the university as a whole.
Q. Who do I contact to join?
Harleston: bh1433a AT american.edu
Karas:  rachel.karas AT usg.org