On Campus
Course Transforms Student Radio Into Career Lab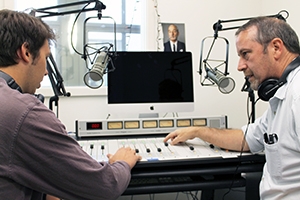 Back to the Future

Professor Greg Smith smiles every time he walks past the poster on his way into WVAU. Staff from AU's student radio station posted the crinkling paper that depicts two '70s college students smiling next to the phrase "This is college radio."

Oddly enough, the poster is of Smith's former classmates from his days working in student radio at another local university—an experience that set the frequency to his life's work.

"That's where I learned radio," he said, "and I learned it well enough to get a job in commercial radio while still in college. Right out of college, I went to work at National Public Radio."

Now a faculty member with both the College of Arts and Sciences' Audio Technology program and the School of Communication, Smith is trying to create that same student radio-to-career experience for AU's budding audio engineers and producers.

Along with A-Tech director Paul Oehlers, Smith partnered with the student-run WVAU to upgrade the studio's equipment and facility, creating new opportunities for student DJs and a classroom for his brand-new Broadcast Audio course.

SOC senior Sam Lichtman loves the hands-on training that the course provides.

"Most classes you sit there and it's just a lecture for a block," he said. "We have all these great mics, mixing boards, and software. So, we're able to just jump right in and start experimenting on our own, which is the best part."

For Smith, this experiential learning sets AU apart from other institutions. It doesn't replace the classroom; it just enhances it.

"That's what makes AU special," he said. "Not only will you get the great academic part of it because we have some great teachers here, we also have some really top-notch professionals."

Transformation Station

Alongside WVAU's co-tech director Aaron Long and Katzen audio tech Manny Cooper, Smith spent weeks rewiring the studio, adding new computers and equipment, and creating two professional production booths from old storage closets.

With the changes, the student organization can now host everything from in-studio concerts to performance chats—opportunities that Smith and WVAU general manager Max Tani will keep in mind as they collaborate on a new production and programming format for the station.

WVAU co-tech director and senior Lee Kathenes is helping continue the station upgrades, and he's enjoying all the benefits as part of Smith's class. A DJ his freshman year, he's watched the studio quickly evolve into the perfect practice ground for audio work.

"We haven't really had a class to give you the chops for going out into the field," he said. "It's cool to see the A-Tech program expand in that way and give the station the resources to make it more professional while still being student-run and having that free form."

As both Kathenes and Litchman look toward graduation in the spring, the two are grateful for the opportunity to widen their professional portfolio, with the course's final goal being a finished hour-long show for students to shop around with their resumes.

That, plus they get to learn under someone like Smith who's worked for Lucasfilm, IMAX, and most recently on the film Lincoln.

"This class even sparked my interest even more in radio," Litchman said. "When you actually go out into the real world, you're not just starting from scratch. You have a base on which you can build up your own career."

Back to the Future II

From this semester and beyond, Smith sees the new relationship with WVAU as one meant for nothing but the benefit of the students, in his class or not. He's lining up a speakers series with professionals from NPR and more to help students get even more real-world perspective.

He even plans to have two more similar courses in the future, as this one filled up and students were waitlisted.

In the end, maybe it was the poster of his old classmates that inspired him, but Smith's vision to transform WVAU is one that will resonate with students, hopefully long after they leave campus.

"I saw it as a diamond in the rough, just a real opportunity to help the students learn how to be broadcasters so that they can take those skills and walk out of college, as I did, and into a broadcasting job if they want to," he said.