On Campus
KGMI 2012 Spotlights Emerging Markets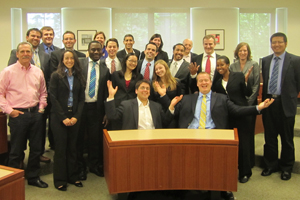 The Kogod Global Management Institute (KGMI) makes the most of summer's long days.
During the intensive, weeklong program, KGMI participants attended modules focused on emerging markets taught by eight Kogod faculty members. From "Intellectual Property Rights and Ethical Issues" to "Sustainability in Emerging Markets," KGMI students gained a fresh perspective on the challenges and opportunities of working in—and with—these dynamic countries.
"KGMI does a great job each year of bringing together professors in diverse areas of study," said Hilda Mwangi, MBA/JD '12.
The week began on Sunday with an orientation session and introduction to Globalization and Emerging Markets, led by Associate Professor Frank DuBois. Immediately following was a casual dinner and screening of "Power Trip," a documentary about the crisis in the country of Georgia after the fall of the Soviet Union. The film prepared KGMI participants for Monday evening's speaker, Joel Abramson, CFO of Generation at AES Corporation, a formerly state-run Georgian electricity company.
On Wednesday, a panel of guests from the World Bank met with KGMI participants for a discussion followed by a luncheon. Chris Seek, MBA '04 and president of the sustainable tourism consulting firm Solimar International, gave the evening's keynote speech.
"It was a challenging, but rewarding experience," said Casey Moore, BSBA '11, MSA '12. "It was certainly unlike any other class I have taken at Kogod. I liked that every lecture was unique and that we had a chance to speak with experts in the respective fields about what we were learning."
On Thursday, KGMI participants boarded a bus to visit the Corporate Council on Africa in downtown Washington, D.C.
Friday morning began with a panel of Embassy economic officers representing the embassies of Brazil, the Czech Republic, Turkey, and South Africa.
KGMI concluded on Saturday with a case competition. All teams incorporated their newly acquired emerging markets insight into their case solutions.
"KGMI was not just about learning from professors, but also from my peers—an equally diverse group of individuals," said Mwangi. "I gained a networking circle that will be invaluable in years to come."
KGMI 2013 will bring new issues, ideas, and local experts to Kogod once again. If you're interested in being a part of the 2013 institute, please email ksbabroad@american.edu, and visit kogod.american.edu/globallearning for more information.