Alumni
Filmmaker Farina, '02, Puts Spotlight on "World Peace"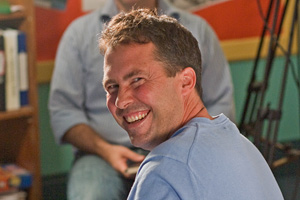 Every year, public school teacher John Hunter cedes control of his classroom to his 4th grade students so that they can go about the serious work of achieving world peace. One year, filmmaker Chris Farina, SOC/MA '02, was along for the ride. The result is a documentary that premiered at SXSW and is getting major, international attention. Watch trailer

Both Farina and Hunter live in Charlottesville, Va. At an acquaintance's suggestion, Farina visited Hunter's fourth grade class to see Hunter's World Peace Game in action. After five minutes spent watching the students work together to solve problems like climate change, world hunger and endless war, the filmmaker was hooked. "[W]hat drew me as a filmmaker was the beauty of the relationship between a master educator and his truly engaged students."
The film has helped catapult Hunter onto the world stage, including a talk at the annual TED conference, which has generated even more interest in the film and its subject.
"Three weeks ago we were at a Conference focused on peace sponsored by Brown University, a week later we were invited to the Aspen Institute's Ideas Festival, the week after that John was in Palo Alto brainstorming with the design firm IDEO for the future [Game] replication efforts, in a few weeks John will be teaching the Game to a group of international students in Bergen, Norway, which is a return trip to the site of perhaps our best film festival experience, the Bergen International Film Festival where we won the Audience Award. We're in Antwerp in September, tentatively at the UN for a screening in October, and there's been an initial conversation regarding a screening at the Pentagon later this fall. Concurrently we have scheduled a, and continue to schedule, screenings at educational institutions around the country and beyond. And all this for a 4th-grade public school teacher and a still-in-debt local, and independent, documentary filmmaker. It's been quite a ride, and key to this has been the attention from the TED community producing many of these opportunities."
Making the Film
Farina was initially concerned that he'd have to ease into the filming process in order to allow the children to be as natural as possible. But he found that wasn't necessary.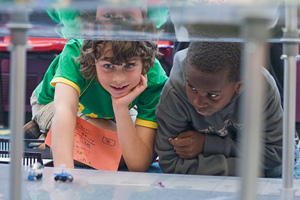 "The children were so engaged in John and the Game that they were practically ignoring us, which is a wonderful gift for a documentary filmmaker. Key, of course, was that we were a small crew, Gene Rhodes, director of photography,Ben Clore, the sound recorder, Will May, the grip and photographer and myself. Kyle Copas, the Associate Producer, was also indispensable, usually in another room converting the digital card onto a laptop."
His favorite part of any film is the editing process. "Bill Reifenberger of Silverthorn Films, the editor on World Peace, is superb, as well as being a great guy. It's just such a charge when you see the film coming together. Because I don't work from any sense of a script, it really is during the edit that the film is essentially 'written' so there really is this sense of discovering or creating the film while editing."
Gaining Perspective at AU 
Farina says that his experience at American University School of Communication helped him become a more savvy filmmaker. "Before I enrolled in the MA in Producing for Film & Video I had made two low-budget independent documentaries, and had just had a larger project kind of fall apart. I realized that I needed to step back if I was to consider tackling filmmaking in a more professional way. My projects will probably always be 'small' in many ways, but I had to move from a two-person unpaid crew to paying professionals, and thus had to deal with larger budgets and generating income that could support this expansion. I won't pretend that I've completely figured this out, but the work I did at AU gave me a true sense of what the wider world of filmmaking was all about, how to understand and approach potential funding sources, and how to plan to market a completed film to the world of broadcasters and distributors."
Farina says that Producing for Film and Video program director Randall Blair left a strong impression on him. "Just learning from his considerable experience was invaluable. When I came to AU, I was very much self-taught. I had made two films, had some festival exposure, but still didn't really understand the filmmaking world. Having the chance to learn from someone who not only understood that world, but worked in that world, was crucial to my believing that I could hope to one day make a film, or films, that might have broader resonance."

Building on Success
The success of World Peace has shown he can do just that. He says he's been astounded by the response to the film. "While I did very much believe in the universal value in John's work, I did not necessarily have much faith that this would have the reach that it has achieved, and I believe is continuing to achieve. The premiere at South by Southwest sort of put us on the map, which was key because with our lack of funding, we couldn't generate any real publicity without some festival recognition." But he's not resting on his laurels.
"We still haven't arranged U.S. television broadcast, and I am in the process of creating the educational curriculum that will accompany the film. What I would like to see is the film become a teaching tool for young and future teachers, allowing individuals to learn from and be inspired by John's wonderful example."
He sees Hunter as emblematic of the good work that teachers do every day. "The film does pay homage to the wonderful, and critically important, teaching profession, and is a reminder that there are many great teachers, generally unrecognized, who do wonderful work with our children on a daily basis. My hope is that the film will have a long shelf-life, perhaps somewhat serving as a counter to what seems like a recent trend in our media where teachers are often only mentioned when criticized."