Student Life
Meet Incoming Student Club Leaders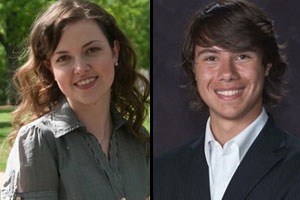 The incoming presidents of the Undergraduate Business Association (UBA) and Graduate Business Association (GBA) gave us a few details on what Kogod students can look forward to for the 2010-2011 academic year.
The incoming UBA President is Christian Kingston, BSBA '12. Kingston is an international student from Argentina and England. At Kogod, he is specializing in Marketing and Real Estate. He's also president of the American Shenanigan Society, a 1955 Club member, and an AU Diplomat.
Olivia King, MBA '11, will be leading the GBA. King hails from New Iberia, La. – "where Tabasco sauce is made." While pursuing a concentration in Marketing Management, she is also in the Marketing Club and on the Graduate Leadership Council.
What are you most looking forward to this year?
Christian: "I am extremely excited to see the growth the UBA will experience … in terms of involvement and education. We have a very dedicated Executive Board."
Olivia: "Working with the team I have. They're all enthusiastic with some great ideas and I foresee a great synergy with all of us. I'm looking forward to putting together several events that will benefit graduate students and the school."
What's the organization's number one priority for the 2010-2011 school year?
Christian: "...To increase the visibility of the UBA to the undergraduate population. We want everyone to realize that when we say you are a part of the UBA, we mean it. We want all Kogod students to make a difference in the organization through their input. …I believe that Kogod students have a lot to give, so why not present them with the opportunity to do so?"

Olivia: "To practice what we preach. We have a mission, and above all, should follow the objectives we've set in order to get there."
What lessons have you learned from previous leaders, and how will you enhance your organization this year?
Christian: "The entire UBA Executive Board and I are really looking forward to the implementation of [six new] committees and having much more involvement from the undergraduate students in the running of the UBA and its events. …I have had the good fortune of working under Rob Sitter and Alex Feld, both now graduates, and I have learned a lot from both of them – their styles of management, their ideas for the progression of the organization, and their drive to make things happen."

Olivia: "Last year's president and executive board did an excellent job. [They] left pretty big shoes to fill, but I think we have the right team to make this work. We want to strengthen the bond between first- and second-year MBAs, improve the current classes' culture, and have it extend to those following us at Kogod and those we reach after graduation as well. We want more community involvement all around."
What events in particular should we look forward to?
Christian: "We will continue to work with K-LAB in hosting [breakfast series] Dunkin' with the Deans. We will also be having several interest meetings to begin filling the committees [and] appointing committee heads. We want everyone to get involved, from new freshmen to graduating seniors."
Olivia: "We will repeat a few things from 2009-2010, such as IT's a Carnival, a mixer with another school, Kogod@8 and Kogod@11. We're also working on a few new initiatives to improve relationships with the community, Kogod, and student focuses that you'll have to stay tuned for!"
For more information on these associations, check out the Quicklinks sidebar.