Communications
'Stand Up Planet' Leverages Laughs for Change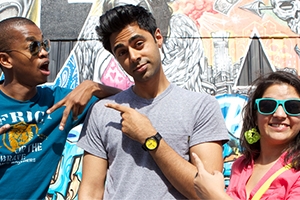 It takes a special kind of creative mind to figure out how to leverage laughs to make a difference on an issue as complex as global poverty. 
Enter communication strategist and School of Communication Executive in Residence Caty Borum Chattoo, executive producer and producer of Stand Up Planet, a groundbreaking documentary TV and transmedia project which premieres on May 14 on four cable and broadcast networks. Stand Up Planet proves that comedy can spring from the most unlikely topics, in some of the toughest places to live on earth.

Thanks to Chattoo, who is also Creative Director at the university's Center for Media & Social Impact, American University is getting a preview April 23 at 6pm in SOC's Forman Theater prior to the broadcast premiere on the Participant Media (entertainment company behind An Inconvenient Truth, Food, Inc. and others) cable network, Pivot, nationwide; KCET in Los Angeles; Link TV nationwide; and top India broadcast network, NDTV. The documentary will premiere theatrically at the San Francisco International Film Festival (with a stand-up comedy show) on April 28, and a comedy show and red-carpet event in Los Angeles on April 30. The show will stream starting May 15 on www.StandUpPlanet.org. 

Chattoo began collaborating on the project years ago, when it was a concept. Her expertise in social change communication, integrated media campaigns, and documentary film and television production made her a perfect fit for Stand Up Planet, as did her history of working with legendary producer Norman Lear, whose breakthrough sit-com All in the Family is an exemplar for using comedy to confront social issues.

"To me, this really is the dream project. My professional passion is working at the intersection of translating complex social issues into entertaining narratives, connecting with untold stories through documentary production. The world of 'social impact media storytelling' is evolving in such exciting ways," said Chattoo.



At the center of Stand Up Planet is a U.S.-based host—Hasan Minhaj, a stand-up comic on a quest to find some of the best humor coming from corners of the developing world. Starting from his own personal story as an Indian-American Hollywood comic, Hasan embarks on an epic journey of discovery to find some of the funniest stand-up comics in the most unlikely places: the bustling city of Mumbai, India, and the neighborhoods of Johannesburg, South Africa. Along the way, Hasan follows the jokes and personal experiences of the funniest international comics deep into the hard truths and the promise for change in some of the toughest global poverty issues of our time. Along with a posse of comedian friends, Hasan invites comedians from India and South Africa to take part in the biggest night of their lives – performing in America's first international comedy showcase and television special, after a stop to meet three of comedy's legends: Bill Cosby, Carl Reiner and producer Norman Lear.


Q&A with Borum Chattoo on her involvement in the project.
SOC: What drew you to the project?

CBC: The opportunity to channel storytelling and comedy into shining a light on some of our most urgent problems in the world was really compelling. Wendy Hanamura and I (leads on the executive team on this project) have been collaborators in storytelling around global poverty for close to five years now, and it was our job to lift the project off the ground even before it was an idea—to find other producers and creative folks to work with—and to ensure that the original mission of the entire project was fulfilled through the creative work *and* the strategy.

The project's centerpiece is the TV documentary, of course, but there's so much more to it that we had to develop and build, including the huge wealth of transmedia content, the digital elements, the action campaign, the relationships with huge global development NGOs, all the way to the integrated marketing and promotion of it. The ability to direct and be connected with every aspect of such a complex project -- from the creative storytelling to the factual information to the campaign itself -- is my favorite kind of work. It was a real privilege. The idea is to follow the entertainment into the deeper social issues, and audiences can easily do that online through our transmedia storytelling. We were really trying to continue a great contemporary moment in documentary storytelling by creating material that moves from TV and screen to online engagement. There's a great trend in documentary storytelling at the moment that's engaging with interactive, transmedia storytelling designed not only to get people to watch, but to participate in some way. Our project's DNA is in that contemporary tradition.


SOC: How were you able to bring comedy legends Norman Lear, Carl Reiner and Bill Cosby into the project?

CBC: I had the great, incredible good fortune of working for and with Norman Lear in Los Angeles for close to a decade. I was a producer, project director, writer and lots of other things with Norman, and his orbit is full of legendary Hollywood people who want to connect with social change through entertainment. This project really has a kind of legacy of Norman Lear and his work—raising awareness and starting conversations through comedy—so I wanted him to be in it and to be involved. I asked him to be an advisor on the project really early on, and then he also agreed to "perform" in a scene with our comics—he brought along the amazing Carl Reiner for a pretty epic day of filming in Los Angeles, and it's a charming scene in the final documentary. Our producers had other connections to Bill Cosby, as well, and he responded with the same level of generosity to appear in it.

SOC: How has your work with Stand Up Planet influenced your teaching?

CBC: I work on documentaries and other social-change media and research projects outside the classroom, and I always share my latest work with my students. They are learning communication and media work in the middle of a totally transformed, transmedia environment, where storytelling meets strategy meets action, and seeing how these projects come together in "the real world" is valuable. 
SOC: Who was the funniest or What/who made you laugh the hardest?

CBC: Our charming, amazing host, Hasan Minhaj, is such a find. He's not only very funny, but really smart and able to connect with people immediately—we couldn't have found someone better to be the tour guide through our Stand Up Planet journey. He's very funny at observing things happening around him and then spitting out some wry observations and imitations. There were so many laughs along the way, it would be hard to pick just one moment.