Arts
Student Exhibiting Art and Honored by Washington Post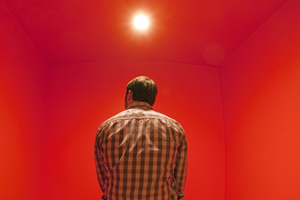 Samuel Scharf, MFA studio art '12, believes in open and honest dialogue when it comes to art. "I'm interested in just speaking to and having conversations with people who show an interest enough to say, 'Why'd you choose that color? Why did you choose to do that performance?' That way, we can grow together in the discussion," explains Scharf.

That's what Scharf hopes viewers ask about his "Self-Portrait" installation on display at the Arlington Arts Center through September 25. The eight-foot wooden cube with a door, an LED light bulb, a spot to sit, and a bright orange interior, listed as one of "Ten objects that will amaze you" by the Washington Post, is meant to make the viewer part of the performance.

"When you walk into that piece and shut the door, my hope for is that you have a contemplative moment, even if you're challenged by the color or you're challenged by the solitude or the confinement, and to meet that challenge," Scharf says. "I really want to have that discussion with the viewer."

Feeling this way about his art hasn't been an easy process. Scharf worked a full-time job while making art in his free time for six years before he entered the MFA program in 2010, and coming into an atmosphere where the only goal was making art all day and then receiving criticism from professors was a trial. "For the first time in my career, I had a group of people specifically focused on looking at my artwork and how it's evolving. 'Where can this go? What are you trying to say here? Are you fully aware of what you're doing and why you're doing it?'" he says.

Scharf was doing found object art before starting at American University. After a couple of months in the MFA program, his professors helped him realize that he was very much aware of his viewer, almost to a fault. "In a couple of criticisms, what was coming back to me was, 'You're involved in a "we" conversation. We want you to know what it's like to be on that other side. Because you're so interested in the viewer, what if you are the object?' I got pushed evolutionarily to be the art, and now I'm exploring that," Scharf explains.

He has no regrets about his changing path. "I was really insecure at first about putting myself out there like that, but this is a real safe space. The professors are really interested in me pushing the boundaries of what I'm doing to the point of full awareness to understand where this goes after I leave," he says.

Scharf believes that his decision to enroll in an MFA program for studio art was a big deal. He was forced to confront the eventuality of immense debt, the fact that there is no guarantee of a job after graduation, and that he was secure with his decision to be an artist. "I really needed to understand that sticking through this, thick and thin, the successes and the failures are, as a whole, what I'm interested in with an artistic career," he says.

Even after one year of the program, Scharf has already noticed a building of confidence and structure that he'd lacked, which he attributes to working with people who have been through the program before. "It's changed the way I look at art, it's changed the way I make art, it's changed the way I talk about artwork," he says. "I only want to look at work that I know has been through that process of thinking through the ideas, and that's the type of work I want to make from now on."

The university's MFA program simply solidified for him that he is a "lifer," someone who has made being an artist his life choice and who has committed to the endless pursuit of creativity and finding his place. His professors have made it clear to him that none of this is an accident, that he was accepted into the MFA program for a reason, and that they believe he has the talent to carry himself through even when others stop making art. "They're really pushing you to be the best type of artist you are," he says. "I couldn't have asked for anything better."

Samuel Scharf's "Self-Portrait" is on display through September 25 at the Arlington Art Center, Arlington, Virginia.