Alumni
Finance Degree Provides Savvy for Startup Venture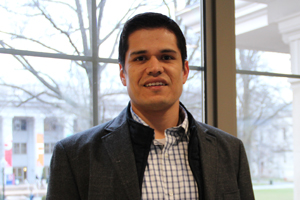 Michael Chavira, MSF '11, is no stranger to higher education.
Chavira has earned three master's degrees, including his MS in Finance. As he builds Axiologic Solutions, a consulting company he founded with business partner Tom Stauber in 2010, he believes this solid academic background supports him.
Axiologic advises the intelligence community in IT programs and project management. This includes optimizing current and future infrastructure and improving information technology efficiency.
Chavira studied the concept of axiology—the philosophical study of value—while he was completing a previous master's. He believes it should be the cornerstone of any system.
Chavira originally had his sights on Wall Street, applying to investment banks in the spring of 2008. The economy had other plans. He decided instead to return to graduate school and get a more formal education in finance. After speaking with Assistant Professor Phil English and discussing his goals, he knew the MSF was the right choice.
While at Kogod, Chavira drew heavily on Quantitative Methods in Finance I and II to get Axiolgoic Solutions going.
"When I was throwing around the idea to start my own company, I used one of the projects I had to do for [Associate Professor Gerald] Martin and turned it into a white paper to see what response I could get," said Chavira.
He continued the project after the Kogod class ended and was able to use it to secure work for his startup company. "It's a tool that someone could use to prioritize risks associated with competing projects or objectives," he said. "I still use it today."
Knowledge is Power
As a managing partner at Axiologic, long days are an inevitable part of Chavira's daily life: Eight to 10 hours working at client sites—public and private sector—and another two to four hours dedicated other business-related matters.
Despite the heavy workload, he enjoys being his own boss.
"I have learned more in this last year about how to operate a company than I did in any combination of course work that I've ever done."
The career path that led him to business school was unexpected. Completing three post-graduate degrees—an MBA and a degree in systems engineering, in addition to his MSF—was not something Chavira anticipated doing. However, an appreciation for learning, coupled with multiple areas of interest, kept him coming back to academia.
"I enjoy the university environment and I've strongly considered getting a PhD at some point in the future. For me, it wasn't that much of a struggle going to class after working a long day," he said.
For now, he'll continue to work in consulting and see where he can take his company, all while pursuing his next goal: an upcoming marathon.
"I'm training for a marathon in Tokyo next month…last year I did a 300-mile bike tour and did a run from Paris to Versailles," he said. "It's an interesting way to see new places."