International
ITEP Student Interns in South Sudan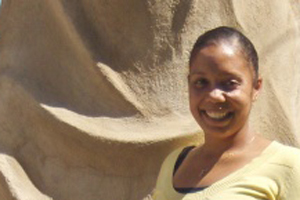 Graduate student Courtney Wright, MA International Training and Education '12, spent two years with the Peace Corps in Malawi, where she taught English to secondary school students in a rural village. She also trained primary and secondary school teachers to incorporate time management, continuous assessment, gender development, and teaching with locally available resources into their teaching. She knew she wanted to find a job that somehow linked her teaching experience and interest in gender when her Peace Cops service ended.
When Wright moved to D.C. to enter the master's program, she realized it would be beneficial to gain more experience before she graduated. "I was idealistic like most people that come to D.C. from the Peace Corps," Wright explains. "I thought that I would just find a job off the bat because I was a volunteer, but that wasn't the case. I had to get more experience."
Wright knew she wanted to learn more about women's education, specifically in areas with large refugee populations.  Her studies at AU have mainly focused on the Sudan. "The Sudan has had Africa's longest civil war; they have refugees everywhere," says Wright. "I took an automatic interest in what was happening there, particularly because it's such a complicated situation."
At a career fair last year, Wright came across World Vision, a non-governmental organization (NGO) that specializes in humanitarian aid around the world. The NGO has components that focus on education and gender, a perfect match for Wright's interests. She spent a semester interning in World Vision's D.C. office on their humanitarian and emergency affairs team where she focused primarily on their South Sudan programs. Last summer, she went to work in World Vision's South Sudan field office.
Wright's family wasn't thrilled when she left for the Sudan in May, given the instability caused by the civil war. "They thought I was crazy," she says. "They said, why would you go, especially now that things are questionable?"
In July, South Sudan officially gained its independence from the Republic of the Sudan, and Wright couldn't have been more excited. "It's an indescribable feeling to know that you're not only witnessing the birth of a country that's struggled for so long gain its freedom, but that you get to see the reactions of people as they're gaining it," she says. "Honestly, how often in your lifetime can you say that you were in a country when it became a country?"
With a new nation came new challenges, however. "The state that I was based in was hardest hit by war, and a lot of the men left home to fight," Wright explains. "Many of them died or are working in surrounding countries. In a lot of areas, women have become the head of the household. There's a big push to not only get these women educated, but to get their daughters educated too." South Sudan's Ministry of Education lifted its priorities to accommodate this change, and World Vision became working with the ministry on the women's education issue.
World Vision, like most NGOs, works with the host country's government to ensure that the government can adequately support the changes and policies the NGO helps to enact. In addition, capacity building among local residents is a priority to ensure that when World Vision leaves, the people of South Sudan can continue to implement these changes in their communities.
While Wright enjoyed the training aspect of her internship, she realized she missed working directly with community members, like she did in the Peace Corps. "When you start working with NGOs, especially with larger ones, you get further away from the community," says Wright. "Most of the time, someone with my background will be in an office somewhere managing a grant. Seeing that made me realize that I'm more community-centered."
After graduating in May, Wright plans to go back to her teaching roots, but she wants to incorporate what she's learned from working overseas. "I'm ready to return to the classroom and bring some of my experiences from abroad into a school," she says. "My biggest desire is just being connected to those that I'm serving."