On Campus
Happenings at the Graduate Research Center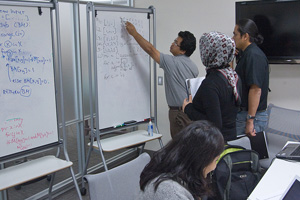 On August 23, 2011, the Graduate Research Center (GRC) celebrated its one-year anniversary. We were so excited to provide a twenty-four/seven, self-serve study area for graduate students this year that we we started our extended hours on the first day of the semester—two weeks before the rest of the library went 24/5! When the library is closed, students may enter and exit the GRC through the Terrace level of SIS, using the doors into the Garage (P1 Level) or in the sunken garden (exit only).
The primary purpose of the GRC is to provide dedicated study space to graduate students, although other members of the AU community may use the area during daytime hours. The GRC includes collaborative workrooms for group study, a large classroom for events and group study, a quiet study room with six desktop computers, and a lounge area for study and conversation. We also have a public printer for use from library or personal computers. The GRC has 34 day-use lockers, which can be checked out by graduate students at the GRC Desk (other members of the AU community looking for lockers should visit the Borrowing Desk on the First Floor of the library).
Extended Hours
In response to student requests and in cooperation with the Graduate Leadership Council, this year we have extended the GRC's graduate student only hours. The GRC is now restricted to graduate students with swipe access only beginning at 8pm seven nights per week, reopening for public access at 8am Monday–Friday and 9am on Sundays. This decreases use of the GRC as a pass-through between the library and SIS buildings during the peak hours for studying. Due to safety concerns, we are unable to offer extended hours during many breaks and school holidays. Updates about the GRC's hours around breaks are available by calling the GRC desk at 202-885-3202.
Graduate Leadership Council
The Graduate Leadership Council's office is located in the GRC as well. This year, we have sought to expand our cooperation with the Graduate Leadership Council, including increasing the number of GLC events held in the library. Examples of events include a flu shot clinic for graduate students as well as the GLC's end of semester events. We have also collaborated with the GLC to improve the GRC space. Recent improvements include the addition of two computers to our mini-lab, new furniture, and artwork. Through a new program in cooperation with the AU Museum and the Art Department, the GRC will be showcasing artwork by graduate students on an annual rotating basis.
Collaborative Workrooms
The GRC has two Collaborative Workrooms for group study. Each room is equipped with an LCD screen, for collaborative work on computer based projects, and a portable whiteboard. GRC staff can provide VGA cables and other assistance with the screens, additional whiteboard markers, etc. Reservations are available to graduates students for groups of 2 or more AU students for a maximum of three hours per group per day. Reservations are available up to one hour in advance either in person at the GRC Desk or by calling 202-885-3202. Larger events, including classes, speakers, workshops and dissertation defenses, can be scheduled in the GRC's classroom. Priority for classroom reservations is given to library-related events and events for graduate students. For details about reserving this space, see the GRC desk staff.
Electronic Theses and Dissertation Formatting Assistance
With AU's transition to electronic submission of theses and dissertations, the GRC staff has entered into collaboration with the library's Electronic Thesis and Dissertation Coordinator to offer basic formatting assistance. Staff members are trained to help with basic formatting assistance for Word on Mac or PC computers. Assistance is available on a walk-in basis from 8am-midnight Monday-Thursday, 8am-9pm Fridays, 9am-9pm Saturdays, and 9am-midnight Sundays. Because the GRC has only single staffing, the amount of time staff can spend on formatting assistance may vary. Mornings are often a quiet time in the GRC and therefore a good time to request assistance. For assistance with content issues, students are encouraged to seek guidance from their school or college.
We hope that you will stop by and visit the GRC to learn more about our space and offerings. As always, we also welcome your feedback, suggestions, and ideas for new improvements. These can be given in-person to GRC or GLC staff or via the library's electronic Suggestion Box. We look forward to seeing you soon!