Education
Cuba as Classroom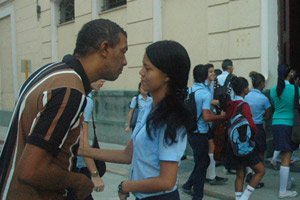 When International Training and Education Program (ITEP) students Jessica Guttenberg '12 and Monica Shah '12 were challenged to design an education-centered alternative break trip for Illana Lancaster's Global and Multicultural Education class, Cuba was not the first country around which they envisioned designing their trip. But as they got deeper into their research, the allure of traveling to a country that maintains some of the highest literacy rates in the world began to grow. Guttenberg and Shah's trip was chosen by the Center for Community Engagement and Service (CCES) as one of its alternative spring break programs, garnering 65 applications for just 13 spots, one of CCES's most popular alternative breaks ever. Guttenberg and Shah discuss their unique experiences planning and preparing to travel to Cuba.
What first interested you in school-community partnerships?
Jessica Guttenberg: I've always been interested in international development, global education, and education in the U.S. Over the past few years, I've become increasingly focused on teaching methods that traditionally correlate with higher academic achievement, specifically in an urban environment. One trend I have consistently read about is that parental engagement and a strong community-school relationship influence higher academic achievement, lower dropout rates, and overall success for students.
Monica Shah: For my Urban Education course, I wrote my final paper on full-service community schools. I was fascinated with the concept and wanted to explore the benefits of such a system. Through this research, I read a great deal about the positive impact of community-school relations on students and communities in general, whether it was a complete full-service community school or just a few partnerships between families, schools, and their communities.
Why did Cuba stick out as an example of school-community partnerships?
JG: Monica and I are both ITEP graduate students. Because of our interests and courses, we have researched and compared education systems around the world. Before Monica suggested Cuba and its social justice concerns, I actually knew nothing about Cuba's high literacy rates. As we researched the reasons for this success, we uncovered examples of school-community partnerships. I'm not sure either of us anticipated this finding, but for me, our research revealed the social justice issue we'd been looking for.
MS: I agree with Jess. It was especially interesting to read accounts of educators and administrators who visited Cuba to learn more about their schooling system and emphasized the relationship between education and society.
I understand you selected participants who represent various perspectives. What is the general makeup of the group and how do you think this diversity improves the quality of the trip?
JG: There are 16 people total, including Marcy Campos, our staff advisor, Monica, and me. The 13 other participants include two international students, one staff member, two graduate students, and a blend of undergraduates from various majors. 
MS: In terms of how it improves the quality, everyone comes with different academic perspectives and life experiences. The exchange of ideas and questions between us keeps us all better informed and aware that issues are interconnected.
Can you tell us a bit about the itinerary for the trip? What kinds of places will the group be visiting?
JG/MS: Because our trip is focused on education, we will have the opportunity to visit the Literacy Museum and a variety of schools—an elementary school in Havana and in a rural town, a secondary school, the University of Havana, the Latina American Medical School, and a non-formal adult education center.  We also plan to meet with officials from their Ministry of Education, a teacher-training institute, and the U.S. Interest Section. Aside from education specific visits, we will also tour El Malecon, Old Havana, and the Museum of the Revolution, and engage in other cultural activities.
How do you think that planning this trip will benefit both of you in your future endeavors?
JG: Planning this trip is giving me more confidence as a leader; co-leading a group is out of my comfort zone.  While certain parts of the planning have been quite natural for me—the organizing, scheduling, etc.—I would always prefer other group members to be the leaders. Forcing myself to lead icebreakers and co-lead pre-trip trainings and group reflections has been the area where I have grown the most.
MS: This has definitely been one of the highlights of my graduate experience and one that I had not foreseen before I enrolled. I want to lead similar trips, either domestic or abroad, for my future high school students, so I think the opportunities to co-lead, plan, and organize will be extremely beneficial for my future endeavors.