Heather Caygle: SOC's Transportation Wonk
By Ania Skinner
November 12, 2012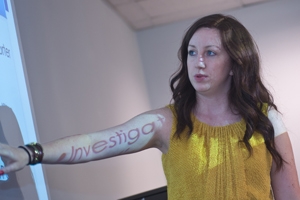 Pursuing stories and members of Congress around Capitol Hill is all in a day's work for Heather Caygle, SOC/MA '12, transportation reporter for Bloomberg BNA. While studying for her MA in journalism, Caygle received a fellowship at Bloomberg in September 2011, and worked there until graduation in May, when they hired her.
"They made it clear at the beginning that if you worked hard they would give you a job," she says. "When I was a fellow I covered a lot of different subjects, but now I really like having my own beat and one area to concentrate my resources on."
Caygle's responsibility is to cover anything and everything transportation-related being discussed on the Hill. She attends hearings, tracks bills that are going through Congress, and chases down the Representatives related to her stories. However the most important tool to success in her job is having a good list of sources who trust her, and cultivating relationships with these sources.
Her experiences at American University, and especially within the School of Communication, helped her diversify her skills and exposed her to new situations that prepared her and opened her mind to new career possibilities.
"A lot of grad students go into this program because they want to learn how to be a Capitol Hill reporter. But you also need to learn how to cover regulatory things because that is what they are looking for at places like Bloomberg," Caygle explains.
Caygle stresses that the need for experience is the key to success for aspiring SOC students, even if it's not the experience students first picture when they think of journalism.
"When I had my public affairs class first semester, we were told to go cover a hearing and then come back and write a story about it," she recalls. "The class was very helpful because a lot of the stuff we were covering was wonky, and we had to learn how to write for an audience that wouldn't understand the background. And we had to make it interesting for them!"
Above all, what made the difference in Caygle's experience was getting out of the classroom and going out to the Hill and the city.
"On-the-ground reporting and meeting people face-to-face is how you find the best stories and get connections," says Caygle. "Just get out there and do that every day."