Research
Creating a Culture of Inquiry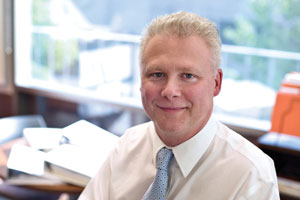 Jonathan Tubman, who joined American University on July 1 as vice provost for graduate studies and research, comes to AU from Florida International University, where he was associate vice president for research integrity and compliance, and a professor of psychology. He is the coauthor of Prevention and Youth Development Programs: Across Borders and has written 57 other peer-reviewed publications and book chapters.

In a conversation with American Today, Tubman discussed his own research, his plans to streamline the grant-application process, and AU's initiatives to improve graduate education.

Tell me about your research interests.
Tubman: I'm a developmental psychologist by training, and most of my work over the past 20 years has been on adolescent development with a focus on substance abuse problems, mental health problems that adolescents have in health-risk behaviors. The last major project I finished was an NIAAA [National Institute of Alcohol Abuse and Alcoholism]-funded project to examine the efficacy of a brief motivational intervention for HIV risk reduction among adolescents in outpatient substance abuse treatment.
A lot of my work has been conducted with predominantly adolescent minority populations, many of whom are mandated to treatment or who have experience with the criminal justice system. The majority of them have co-occurring mental disorders, psychiatric disorders. They're a multi-problem group of youths. I'm interested in developmental processes that lead to adaptive and maladaptive outcomes. In particular my research, with a group of colleagues at Florida International University, focused on the efficacy of brief motivational interventions for substance use problems but also for school-place violence and HIV risk behavior.

You've been very successful in getting grants. You served as the principal or co-investigator for over $10.7 million in grant funding from the National Institute of Alcohol Abuse and Alcoholism. How will you apply your experience to AU?
Tubman: At FIU I was an associate vice president for research, research integrity, research compliance and associate dean of the graduate school. I've got over a decade's worth of administrative experience looking at how different systems work in universities, why they're efficient or non-efficient, how they can be streamlined. [I've thought] about connections between systems, whether it's the graduate school and the research office or the research office and purchasing, and all the other things PIs [principal investigators] need to accomplish to implement a grant in a timely fashion  .  .  .  I understand national best practices as well as the research environment, how the environment of an institution affects those practices.
What were your biggest successes at FIU?
Tubman: A series of accomplishments that took a hard look at systems that weren't serving faculty well and trying to turn them around and change the orientation of an office or a process:
We revamped the human subjects review process. It went from an aversive experience for most faculty to a system where nearly all faculty got their applications approved in five working days.
We took a hard look at the graduate school and at ways to build out student enhancement programs while raising the standards for admissions.
We tried to communicate better with the university community and show people the three functions of a graduate school, which are to advocate for resources, do quality control, and implement a student enhancement program.
What would you like to accomplish at AU?
Tubman: I would love to spend my time working with deans, associate deans, department chairs, and faculty thought leaders on thinking about innovative, value-added, exciting graduate programs that the faculty are really engaged in offering, creating an environment that has an intellectual ferment that faculty are engaged and excited about training doctoral students, finding ways to assist faculty in getting applications out the door, helping them reach their potential. We have a lot of phenomenal faculty here, but they may see the process of submitting a grant as cumbersome. I'll be trying to find ways to make that more intuitive so they focus on the science of the application rather than the mechanics of processing paperwork.
What specific goals are at the top of your to-do list?

Tubman:  We're working on an RCR policy — responsible conduct of research — that's a training program for people with certain types of federal grants, but I'd like to see it expanded to anyone doing a thesis or dissertation on campus.
Big things that will be happening are the separation of pre-award and post-award in the research infrastructure, and we'll be working with post-award to announce to the university community how that's going to happen. Other university-wide things include revamping the research administrative roundtable to enhance college-level, post-award research professionals' skill levels so they're adequately serving faculty with grants. We also hope to instill a creative problem-solving stance rather than a gate-keeping, compliance oriented, hand-slapping stance. The two sides of the house have to work together and a lot of that is really people having a better comprehension of nationally accepted best practices  .  .  .  and having a problem-solving mentality versus a gate-keeping mentality.
We have revamped the Web site for graduate studies. Other things we're working on:

a research misconduct policy
conflict of interest and conflict of commitment policies for faculty
a PI manual so faculty who get grants know exactly what they're supposed to do
a graduate program directors manual so they know what they're supposed to do
What's your overall goal?

Tubman: My ultimate goal is to help faculty have a stimulating environment, so we can work to create a culture of inquiry and find ways to expand the intellectual footprint of the university. In doing so we emphasize that to enhance the national reputation the research we do has to be more geared toward projects that produce tangible intellectual products like publications that go out for peer review. They have to involve doctoral students and ultimately we want more funded programs that employ doctoral students to help defray the costs. We will work with faculty to [help them] understand that it's important that they bear the responsibility for defraying the cost of their research and the cost of doctoral education. That will most likely be a cultural shift. It is at most universities where you're ramping up your research infrastructure and what you do.