Achievements
Research Focus Wins Award for Communication Professor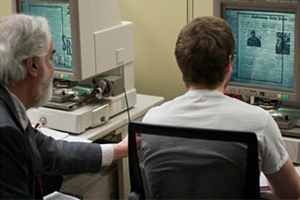 School of Communication Professor W. Joseph Campbell has been honored with the 2014 Teaching with Research Award by the Center for Teaching, Research, and Learning at American University. Campbell was selected for the university-wide award in recognition of his efforts to promote and encourage student research at Washington-based institutions, including the Library of Congress.
Campbell was honored at this year's Ann Ferren Teaching Conference in conjunction with School of Public Affairs Assistant Professor Ed Stacyk. The competitive award recognizes faculty who creatively incorporate original student research into course experience.
Campbell (left) was honored at the 2014 Ann Ferren Teaching Conference in conjunction with School of Public Affairs Assistant Professor Ed Stacyk.
In Spring 2013, students in Campbell's Foreign Policy and the Press course conducted research on a leading daily newspaper's coverage of President John F. Kennedy's 1963 commencement address at AU. Drawing on the resources of Washington, D.C., students were able to conduct original and revealing research using primary source materials at the Library of Congress.
"The assignment not only enabled students to enhance their familiarity with an important moment in AU's history but encouraged them to become acquainted with the resources of the Library of Congress," said Campbell.
Throughout the years, many of Campbell's students have found their research projects have a shelf life outside the classroom. Graduate student Angelia Levy turned her research paper about the 1960 Kennedy-Nixon debate into a blog post, linked to by Real Clear History. And undergraduate student Win Brooks repurposed his Library
of Congress paper about the Salt Lake Tribune's coverage of Kennedy's assassination into a blog post for the newspaper.
"The Teaching with Research award recognizes my efforts over many years to promote and encourage student research—something I've incorporated into my syllabi since at least 1999 and will continue to do," said Campbell.
Campbell, who is the author of five books, is a past recipient of the AU student government's "faculty member of the year." He also has received the University's faculty award for service to the AU community and the University's Morton Bender Prize for promising associate professors. Campbell was promoted to full professor in 2009.
He has taught 17 different courses in SOC, including a number of honors colloquiua. He is faculty coordinator for the School's Communication Studies undergraduate program.
Campbell joined the AU faculty in 1997, after earning his doctorate in mass communication at the University of North Carolina at Chapel Hill. Before that, he was a newspaper and wire service journalist for 20 years, in a career that took him across North America to Europe, West Africa, and parts of Asia.
He is a past president of Kappa Tau Alpha, the honor society recognizing high academic achievement in journalism and mass communication studies. And he is a former chair of the History Division of the Association for Education in Journalism and Mass Communication.