Achievements
Voice of Reason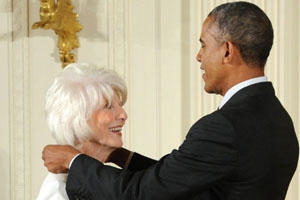 Despite an increasingly raucous public debate, veteran radio host Diane Rehm has won over hearts and minds with her civil, intelligent programming. And despite her many accolades, this latest recognition is possibly her most prestigious: Rehm has been named a recipient of a 2013 National Humanities Medal. On Monday, July 28, President Barack Obama is scheduled to present her with the award at the White House.
The Diane Rehm Show is produced at WAMU 88.5 American University Radio and is distributed by National Public Radio, NPR Worldwide, and SIRIUS XM.
"For nearly 35 years, Diane Rehm has brought thoughtful conversations to millions of public radio listeners worldwide, and her careful and curious exploration of literature, the arts and the broader humanities has long been one of her distinguishing qualities," said WAMU 88.5 Programming Director Mark McDonald in a release.
A Washington, D.C. native, Rehm launched her radio career in 1973 as a volunteer for WAMU 88.5. In 1979, she started as host of WAMU's Kaleidoscope, which was later renamed to its current title. In 2010, she won a George Foster Personal Peabody Award for her distinguished career in public broadcasting.
The National Humanities Medal is given to her by President Obama and the National Endowment for the Humanities. According to an NEH release, the medal honors individuals whose work broadens citizen engagement with the humanities. "In probing interviews with pundits, poets, and Presidents, Ms. Rehm's incisive, confident, and curious voice has deepened our understanding of our communities and our culture," the NEH release stated.
Previous winners have included Nobel Peace Prize laureate Elie Wiesel, and novelists Toni Morrison and Philip Roth.
The medals ceremony is expected to be live streamed at 3 p.m. on Monday at www.whitehouse.gov/live