Achievements
I Can Make An App For That!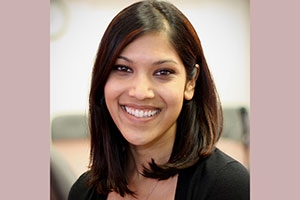 Maha Masud is a digital media and non-profit industry professional and a newly-minted iApp designer. She currently works at Americas Society and Council of the Americas producing multimedia content for AS/COA Online. She is pursuing a graduate certificate in Digital Media through American University School of Communication. Maha graduated from the University of Kansas with a B.S. in journalism and lives in New York City. SOC sat down with Masud to ask her a few questions about her work and how the online Digital Media Skills program fits into her career and life.


SOC: Why did you enroll in the Digital Media Certificate Program?

Masud: I've always had an interest in digital media, but never had the opportunity to pursue it professionally. I've worked in non-profit program management but decided it was time to make a shift toward a more digital career. I researched education programs that would give me the nuts and bolts of web development, and grow my design and editing skills in images, graphics and video. I was also in the process of moving so I needed the flexibility to study online. When I came across AU's Digital Media Certificate Program, it seemed like a great fit for my needs. The program offered classes addressing the skills I wanted to learn, and offered the ability to study from anywhere in the country. With American University's great reputation, I felt comfortable applying for an online program.


SOC: What has been your experience so far?  What have you found exciting and what were some of your challenges?

Masud: The program has been great so far, and I have learned do things I never thought I would be able to do. Knowing that I've built a website from scratch and created a mobile app is amazing to me, especially because I'm not the most "techie" person in the world. Although it's online, the program is still rigorous and requires your full attention, especially if you really want to learn and excel. My previous course was probably the most challenging so far because we learned PHP, a logic-based language, to build dynamic content into a website or app.


SOC: You recently completed Dynamic Content where you developed your first iApp.  Can you describe to us what the application does and what inspired you to develop it?

Masud: I was intrigued by the idea of learning to make a mobile app and decided to create an app related to my interest in all things food. While I love to cook and bake, I don't have a lot of my own recipes developed. Luckily, my older sister has a great food blog called Spice's Bites (www.spicesbites.com), and she let me use her recipes to create an app based on the blog, which I called "Bite Me." This app allows a user to search for recipes based on the type of ethnic cuisine she wants to eat. The blog features an array of recipes from around the world, from Bengali/Indian to Mexican and American. When the user opens the application, she's asked to choose which region-specific recipe she wants, and based on her selection, a list of recipes will automatically populate. From there, the user can select whichever dish she's in the mood for and that recipe will appear with a photo, a description of the dish, a preparation guide and step-by-step instructions.


SOC: Recently, you have had new opportunity stem from the certificate program.  What were they?  

Masud: I've already begun to make some strides toward my goal to shift my career since I entered this certificate program. I'm currently a teaching assistant for Professor Brigid Maher's summer online course, New Media Practices and Techniques, where through weekly lab hours I provide technical guidance and advice for the students in the class. They are learning to create Wordpress sites and social media management, among other skills. Recently, I was asked to assist with a project for Professor Patricia Aufderheide, Director for the Center for Social Media. I created a Prezi, which is an online presentation tool, that Professor Aufderheide will use during her talk on fair use and journalism during an upcoming TedX event. Opportunities like these would not have been possible before this program and I'm grateful for the encouragement I receive from program faculty as build my skills and get closer to my professional goals.