Alumni
Texas Native Thankful for D.C. Grad School Experience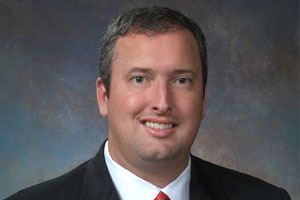 Jason Hammons, MBA '00, has lived all over the world, from Texas to New England to Italy, but only Washington, D.C., can compete with his native Texas for the coveted title of "home."
"I've always called Texas home, since I was born there and lived there as a child," Hammons, who is now Vice President of Commercial Banking at the Bank of Texas, said.
He went straight from the University of Oklahoma into his first career as a naval flight officer, which took him all over the Southeast, Northeast, and Mid-Atlantic for eight years.
"Eventually I found myself relocating to Washington, D.C., and that's where I wanted to go to graduate school," he explained. "I learned of [American University] from a very good friend and coworker…I did some research and started the application process before I moved to D.C."
Though he missed the first week of class for the birth of his first child, he quickly found himself enamored by the flexibility and diversity of the program. AU's convenient location, with easy access to public transportation, was also attractive.
"I was a part-time student working full-time at the Pentagon in a very demanding position, with a newborn," he said. "There was zero free time. But with the resources D.C. has, and the school's willingness to work with my schedule, it all worked out very well."
Though he managed to balance his life as a student with his life as a professional, he was very clear about how much the program's format helped.
"In my undergraduate degree and my first career, I had zero business or economic training. A lot of people had a head start, and I was starting from scratch. That should be a testament. MBAs should be just as much for those who have experience and degrees in other fields," and Kogod easily fit the bill.
Since completing his degree, Hammons tried his hand at consulting before transitioning to banking. He also moved back to his first home, Texas.
"It was more of a personal decision to move back…we didn't have much family nearby [in D.C.], and as my kids were growing up, we wanted to be around family more. Texas is a great place to grow up, with great school systems and a very dynamic industry base."
A part of his heart still lingers in D.C.—which is why he serves as president of the Dallas/Fort Worth American University Alumni Chapter. 
"I don't regret a bit of it. Kogod opened up doors for many different avenues," he said.