Greetings from Chip Griffin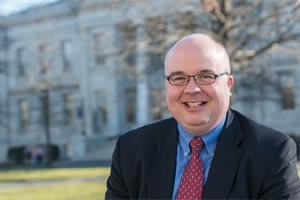 With a new academic year underway, it's time to plunge in to a very active season of alumni activities and events. I was fortunate to help welcome the new class by representing the family of 120,000 AU Eagles at the annual Convocation ceremony. That event represents a highlight of my time as president of the Alumni Board because it helps unite the students just entering campus with those of us who graduated years or decades earlier. We share a common experience and now can be resources for each other.
We're just a month away from All-American Weekend, and I look forward to seeing many of you back on campus for this great annual tradition. This year, we will be honoring some really talented Eagles who have accomplished great things in their professional lives and given back to their communities. 
Finally, it's that time of year when we solicit nominations for Eagles who want to join the Alumni Board. This is your opportunity to serve as an ambassador for the AU community. To learn more, check out our web page with details.
- Chip