Television & Film
Restoring Integrity to the Wildlife Film Industry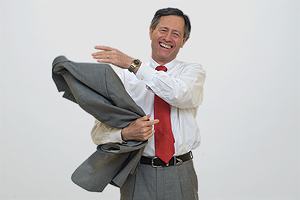 "I see my role as the trouble maker," quips Chris Palmer, the Director of the Center of Environmental Filmmaking and author of Shooting in the Wild, a book exposing ethical transgressions of the wildlife film industry, including animal manipulation and abuse. "I have been inside the industry for 30 years; I know the secrets that the outside doesn't know."
Recently, Palmer has begun the process of turning his book into a film, which is hosted by renowned environmentalist Alexandra Cousteau, daughter of documentarian Philippe Cousteau and the granddaughter of French explorer and filmmaker Jacques-Yves Cousteau. The film's world premiere is set for Tuesday, March 19, 2013  on American University's main campus. It will also be made available to public television stations.
Shooting in the Wild is a testament to Palmer's strong belief that the exploitation of animals for the sole purpose of creating sensation and drawing in high ratings is unethical and needs to be stopped. Hosted by celebrated His upcoming movie will unveil the truth behind the wildlife film business, as well as display examples of current movies and television shows that cross the line between appropriate and abusive.
"What I have done is blow a whistle," Palmer says. "I have given away a trade secret, like giving away a magician's trick."
These tricks include staging a wildlife scene using captive animals from game farms, provoking animals in order to get a reaction, or interfering with the natural order of predator-gets-prey process in order to film a dramatic shot. Not only is this physically harmful to the animals, but it also deceives the audience.
Animals such as lions or sharks are often portrayed in these films as vicious creatures, snapping at the first sign of disturbance. But what the cameras often don't catch is how filmmakers manipulate the situation before the camera starts rolling in order for the animals to react, thus creating an unnatural and false portrayal of the animal in its natural habitat.
Palmer points to an example of this in Dave Salmoni's documentary about lions called Into the Pride. Salmoni aggravates the lions by getting off of his bike, which causes the lions to charge at him and for the cameras to capture a money-making scene. However, naturally lions would not act so aggressively, and Salmon's provocation and disturbance of their environment causes an inaccurate portrayal of the animals.
 With such an outspoken and revealing look at the inside workings of the wildlife film industry, it is obvious that not everyone will take kindly to Palmer's movie.
"I am a reformer focusing on the moral issues of how films are made," he says, "so not everyone is happy."
One critic accused Palmer of "biting the hand that feeds him," but for Palmer the integrity of his profession meant more to him than continuing to do anything to get that "money shot."
"After 20 years in the business, I began to question what I was doing and the things I had done," Palmer says. "I was haunted by the things I had seen, and I knew that someone had to speak out."
Palmer advocates the importance of responsibly filming wildlife and focusing on conservation of the animals and their environment rather than accumulating money and ratings. He urges filmmakers to not abuse the animals or disrupt their natural habitat in order to get footage.
However, Palmer recognizes that changing the industry is not a one-day process.
"It is not easy to just stop. The trouble is that the whole system is set up to encourage it. There is such pressure for films to raise ratings and make a profit," he says.
But by promoting awareness and encouraging a new generation of filmmakers to consider the well-being of the animals, Palmer is taking the first step in keeping the wildlife film business focused on honest portrayals of animals in their natural habitat.