Business
Real Estate Alumna Named to Bisnow's '35 Under 35'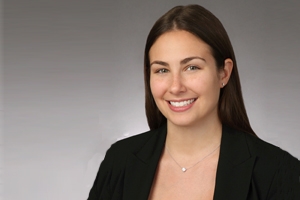 When Kim Roth arrived at American University, a career in real estate had yet to cross her mind.
But that hasn't stopped Roth, BSBA '07, from establishing a promising career. Recently named to the 2013 35 Under 35: Rising Stars in DC Commercial Real Estate by Bisnow, a business publication boasting more than half a million subscribers, Roth has been identified as one of the up-and-coming players in the region's commercial real estate scene.
Building Blocks
Coming to Kogod, Roth knew she wanted to study business, but had little interest in real estate. She held internships in other fields, but it wasn't until a piece of paper crossed her path that her attention shifted.
"I got a flyer [promoting the real estate program] in my mailbox when I was on campus. It sounded cool so I decided to go with it."
Soon after, Roth met with her academic advisor to discuss the possibility of a specialization in real estate finance. She left the meeting with a new focus and a new schedule.
Her remaining time at Kogod offered a variety of opportunities to develop practical skills, learn in an engaging environment, and network with faculty and professionals.
Roth stressed the importance of group projects, an experience that directly ties to the teams she works with today.
"The best part of [Kogod] was being able to go through classes with people that you recognize."
The Path Forward
After graduation, Roth leveraged her connections within AU and her sorority, Chi Omega, accepting a position as a research associate at CBRE Group, Inc., a global commercial real estate firm.
"Having the alumni connections [and] the ability to connect with professors was very important," she said.
She quickly rose through the ranks, earning the 2007 Rookie of the Year award for her work during her first six months on the job.
"It's all about networking," she said. "You have to be willing to go up and shake somebody's hand that you don't know."
Roth's knack for networking helped her climb quickly at CBRE, moving up to sales analyst on the retail investment team, where she spent four years before landing a job at Studley, another international commercial real estate firm, where she serves as an associate director. She represents retailers, restaurants, and office users, helping find appropriate spaces that best suit their needs.
Giving Back
Roth continues to build on her success and accomplishments, but finds that giving back remains a priority. A member of the Kogod Women in Business Conference steering committee, PULSE – American Heart Association, Commercial Real Estate Women (CREW), and the Tikkun Olam Women's Foundation, she believes in the importance of philanthropy.
"The real estate community is very much into giving back and being involved," she said.
Roth cited her work as an opportunity to socialize with her friends and coworkers while making a difference.
Recognition
Earlier this year, Roth received recognition for her hard work and quick ascent at CBRE and Studley. After being nominated by her a mentor and colleague, Bisnow named Roth to its 35 Under 35: Rising Stars in DC Commercial Real Estate.
"[It was] a really unique honor," she said, citing Bisnow's influence in the commercial real estate field.
But Roth hasn't sat on her laurels in the meantime.
"The award gave me an opportunity to get my name out there and expand my network even more."