Alumni
Alumni Mentoring Program at the Four-Year Mark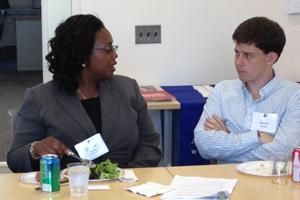 Dean James M. Goldgeier, Director of Development Morris Jackson and Assistant Vice President of Alumni Relations Raina Lenney welcomed students and alumni to a reception to mark the 2012-2013 SIS mentoring program Sept. 19.
Now in its fourth year, the program pairs 26 SIS seniors and alumni. They meet regularly to discuss the students' after-college plans, job-searching techniques and other topics.
"The mentors provide real-life experiences to their mentees, and that experience enhances and facilitates the students' entry into the work world," said Jackson.
While most mentors and mentees are based in D.C., participants living or studying abroad connect regularly through email and the video chat over Skype. Brooklyn Hamel, SIS/BA '12, studied abroad in Argentina in the fall of her senior year and held regular Skype conversations with her mentor.
"During our Skype sessions, we talked about specific topics and picked out central themes on what we could work on together," said Hamel. "We continued to communicate through email during the weeks that we didn't have a Skype date. I found the support from my mentor to be very helpful on a professional and personal level. It was nice to have her as a source of support while I was abroad and as I started to navigate the waters of life after college."
In the 2011-2012 year, half of the mentors were returning participants, some in their third year, and 100 percent of the participants said they would recommend the program to other alumni or interested students.
"It's a great opportunity not only for the benefit of the students, but the alumni feel meaningfully engaged too. They understand the need for something like the program, because it's pretty likely that someone helped them in a similar way," said Lenney.
Danica Starks, SIS/BA '99, who served as a mentor during the second year of the program and returned in 2012, remembers the assistance she received from the SIS faculty as a student.
"Being an African-American student, there were few of us at AU, and even fewer in SIS," Starks said. "It was nice to have somebody who affirms that you belong here. I had a lot of professors who took an interest in me or made the time for me. I felt that AU was a very nurturing environment, and now I can provide that for somebody else."