On Campus
Puttin' on the Perk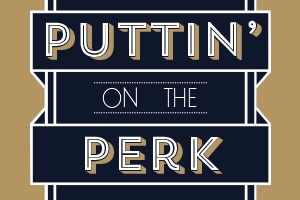 Looking for a break from studying? Look no further than that Final Perk—AU's largest all-campus study break. On Wednesday, December 11 from 7 to 8:30pm, the Mud Box Café (Bender Library, Lower Level) transforms to host a swanky 1920s party à la The Great Gatsby. There will be free coffee and cookies (including gluten free and vegan options) for all.
Arrive in costume and enter our costume contest. The winners will receive an electronic copy of The Great Gatsby or another 1920s themed movie, courtesy of Media Services. If you can't dress up, you can borrow some of our props to have you picture taken in the photo booth with a 1920s era car. You'll also have an opportunity to decorate you own mask.
This marks the ninth academic year that the library has sponsored this end-of-semester study break. This semester's partners include the Mud Box Café, Friends of AU Library, Student Government, Graduate Leadership Council, Student Activities, the Residence Hall Association, and the Alumni Association.