Greetings from Chip Griffin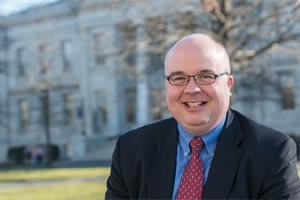 Thank you to all of the alumni who came to All-American Weekend and made it yet another resounding success. It was great to reconnect with so many friends from long ago — including one who was visiting all the way from Africa!

As the cold weather begins to settle upon us, it reminds me of basketball season. This year we have two great new coaches leading the men's and women's programs, and we're all looking forward to watching their teams develop. If you're in the D.C. area, I encourage you to attend a basketball game — or any of the many athletic competitions taking place on campus.

For those of you who moved away from Washington after you graduated, there are great things going on in our many local chapters. There's something for everyone. Some of the activities include volunteer days where we join together as Eagles to help our local communities, basketball games on the road where we join together to root on the team, networking receptions where we join Eagles looking to hire with those seeking career change, and regional outings where we bring our families together to explore cultural events.

Finally, this time of year marks an opportunity for us all to reflect on what we are thankful for. I have many things to give thanks for, many of them AU-related (including my wife — a fellow Eagle!), but as an alumni community as a whole, we're especially thankful for the success that we get to see our fellow graduates achieve. This month's newsletter recognizes four alumni, including Pam Kaufman of Nickelodeon, and I encourage you to check out their stories.
- Chip