On Campus
Film Screening Highlights Unique Program, Career Opportunities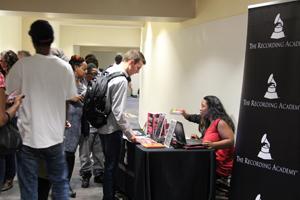 Imagine not knowing that your music had influenced the lives of millions. On top of that, imagine never receiving any of the royalties for the sale of more than 600,000 of your albums.
This is true story of the artist known as Rodriguez.
Last week, Kogod's Business Music Club sponsored a screening of "Searching for Sugar Man"—a Sundance winning film about Rodriguez's music career—in conjunction with the local chapter of The Recording Academy, the organization that celebrates music through the GRAMMY Awards.
"The part of the event I enjoyed most was getting a chance to meet with representatives from The Recording Academy before and after the movie screening," said Emily Richardson, BSBA '13, and former Business Music Club president.
Launched in 1998, the D.C. chapter put the nation's capitol on the musical map. It's the fastest growing branch in The Academy's history.
"Events like the 'Searching for Sugar Man' screening are extremely important because they give students the opportunity to learn more about the industry they may be interested in pursuing while also getting a chance to network," said Richardson.
John Simson, an instructor at Kogod and former executive director of SoundExchange, echoed Richardson's sentiment. "Showing the film at AU in partnership with the GRAMMY organization was an exceptional opportunity for students interested in the entertainment business, whether as artists or as business people," he said.
Simson helped to found the chapter and is the current president. He proposed that the screening be held on campus and reached out to invite the broader music community at AU.
"These types of events will help shine a larger spotlight on Kogod's BS in Business and Music (BAM) Program so that students in other majors and other departments will find and take courses being offered through the program."
This fall, Simson is teaching The Economics of the Music Industry (KSB-396). Many of his students are in the BAM program, which prepares students for a career in the for-profit music sector.
"The film illustrates one of the great frustrations for many entertainment professionals: that extremely talented people don't always break through and find mass success," Simson said.
To help open doors, Wendi Cherry, executive director of the local chapter, was on hand to introduce GRAMMY U—a program that gives direct support to students interested in music careers.
"We offer access and experience behind the scenes that other students who want to be in the industry don't have," Cherry said. "Our goal is give students networking, professional development, and mentoring opportunities that will help them to decide whether or not this is the right career path for them."