Internship Registration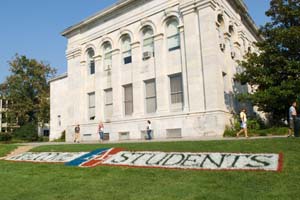 An internship is a combination of academic study and substantive work experience, approved by a supervising faculty member in advance. Registration for internships is open to degree students in good academic standing. Academic departments may have additional requirements, but minimal prerequisites for registration at the undergraduate level are completion of 30 credit hours of course work (12 credit hours for transfer students) with a minimum grade point average of 2.0; at the graduate level, completion of 9 credit hours with a minimum grade point average of 3.0.

All students should consult with their academic advisor well in advance of registration deadlines to ensure their eligibility and to understand their school's approval process. They are also encouraged to work with an advisor in the Career Center. For additional information about internships, visit the Career Center on the fifth floor of Butler Pavilion, peruse their website, or call 202-885-1804. Internships are for a minimum of 12 weeks.

Students must have met all prerequisites, secured the work position, and confirmed their work schedule with their site supervisor prior to registration. The student and supervising faculty member must agree upon and document the credit value of the internship, depending on the nature of the academic component and the number of hours required for the work component. The minimum standards for academic credit are: 7 hours per week for 1 credit; 10 hours per week for 2 credits; 14 hours per week for 3 credits; 18 hours per week for 4 credits; 22 hours per week for 5 credits; and 26 hours per week for 6 credits. Students may only receive academic credit for the term in which they are interning.

Students must submit a completed and approved Internship Registration Form including location, supervisor, and internship hours.