Student Success Story
Grad student lauds AU's newest learning community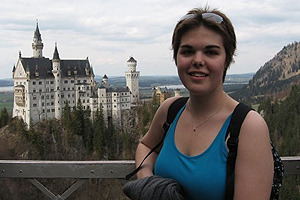 Katie Young wishes there had been an Explorations Learning Community at AU when she was a freshman. But bad timing didn't prevent the master's student in ethics, peace, and global affairs from participating in the program, which the University College launched in AY2008–2009. She became a community associate (CA).
The new learning community, she explains, is for "undecided" incoming freshmen, who are too often "underserved and overlooked" because they have not yet declared a major or settled on a department. It gives them "a social network and academic guidance, which is unparalleled in the university."
Young got her students—and their special needs. She invited guest speakers who would encourage and guide them. One day AU president Neil Kerwin came to speak about the importance of academic exploration and remaining open to possibilities. Another time professors Farhang Erfani and Patrick Thaddeus Jackson engaged the class in a provocative discussion on the question: who are we?
The students responded, says Young, because they felt validated. And also because the topics were "meaningful and connected to their lives in a way that traditional classroom discussion [isn't]." This program, she says, "is important as it provides students with the right environment and appropriate resources to feel comfortable and flourish academically and socially."
Young marveled at how the students changed and grew in just one short semester. She likened the experience to watching a butterfly emerge from its cocoon. That, she says, is what made the Explorations community, for her, so exciting and rewarding.