Student Success Story
Philosophy major inspires at University College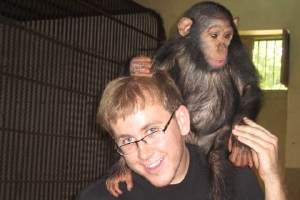 Location is what drew Chip Corbett to American University. Four years later, it's all about philosophy—and his foray into the experiential world of the University College.
The senior, a program assistant for the UC course on Western philosophy, taught his favorite subject for one semester while working on his bachelor's. He also lived in a residence hall in a "neighborhood" of students who shared a common interest. It was, as it happened, a perfect match.
"Engaging with philosophy," he says, "allows individuals to reflect and critically question ideas [that] would normally be taken for granted and whose history and relationship with other ideas would be overlooked." Useful skills, says Corbett, for navigating AU's politically active campus, and the world in general.
Learning at the UC happens in the classroom—and outside. Corbett introduced his students to a Washington site few people see: St. Elizabeths Hospital, D.C.'s historic, public psychiatric facility. He illustrated Marxist principles with a visit to the American Federation of Labor and Congress of Industrial Organizations (AFL-CIO).
And his students read Plato's Republic and then, in groups, created cities—out of candy. "Much surprise and discussion ensued when the groups all constructed their cities with centralized governments!"
Corbett says he learned a lot from his students as they from him. "Watching my students grow as individuals," he says, "as well as enjoy and appreciate philosophy [through] their living-learning experience, has been a privilege and an unforgettable experience."